The Grinder Series Premiere Review: What's Your Verdict?

Stacy Glanzman at . Updated at .
Would you rather have a heart attack next to Noah Wyle?
He may not be a real lawyer, but Dean does make some compelling arguments on The Grinder Season 1 Episode 1. Or, at least he can make his ridiculous arguments sound compelling.
ER was a long time ago though. I think I'd rather have a heart attack next to someone who's played a doctor a little more recently if I had the choice.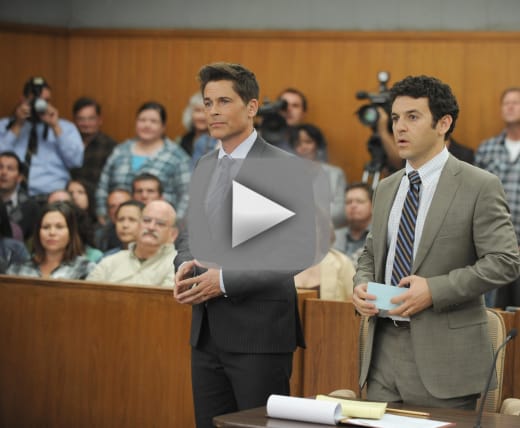 It's great to have Rob Lowe and Fred Savage back on our TV screens. They complement each other extremely well. Dean's eccentric personality and Stewart's straight man will make a great partnership as the series progresses, not unlike Chris and Ben from Parks and Recreation.
Speaking of Parks and Rec, who else squealed with joy when Dean dropped the "literally" bomb towards the end? I wonder if that was written into the original script or if Rob Lowe snuck it in.
Dean and Stewart are night and day. Dean is confident and outgoing, while Stewart is soft spoken and reserved. Stewart is understandably weary of Dean's presence and concerned about him inserting himself into his cases, but it's obvious he needs his confidence to rub off on him.
Stewart is smart, but with so many lawyers out there, why would clients want to hire him? He would have a hard time reassuring his clients that he can win.
Stewart has already shown that he has it inside him, he just needs a little help coaxing it out. It should make for some entertaining moments.
I would love to get more insight into their childhood and what it was like for them growing up. I hope that we eventually get to see some flashbacks of them as kids.
Speaking of kids, how cute is Ethan? He's already my favorite of the supporting characters. The scene with Dean and Ethan agreeing to a settlement with Lizzie and her boyfriend was hilarious. There's definitely a lot of potential for humor with Dean as a mentor to Ethan.
The court scene was outrageous and hysterical. I loved the expression on the defense attorney's face throughout Dean's entire interrogation. The whole thing was ridiculous of course, but that's why it was funny. I can't wait to see Dean meet a judge who's not a fan and won't put up with his antics.
As we've seen on Suits, taking the bar exam does not make Dean a lawyer. At least he's not lying and therefore isn't committing fraud, so that's something. But if he believes his TV education is enough, why bother taking the bar at all? It doesn't mean anything without a law degree.
I wonder if at some point in the series he'll decide to attend law school. He's got the money and the time.
The Grinder's first outing was sweet, funny, and well acted. I'm excited to see where it goes and watch these characters develop. There's potential for this to be one of the better new shows of the fall.
Your turn, what did you guys think? Will you settle for The Grinder?
Stacy Glanzman was a staff writer for TV Fanatic. She retired in March, 2019.