We're back with your weekly discussion of all things iZombie! Reunited and it feels so good!
Major and Liv are not reunited, however, after the little zombie cure switcharoo she pulled on him in last year's finale episode. While he deals with some strange side effects from the early version of the cure, Liv runs into a human Blaine and gets a very dangerous new roommate in iZombie Season 2 Episode 1.
Join TV Fanatics Caralynn Lippo, Amanda Steinmetz, Whitney Evans, and Lindsay MacDonald for a discussion about lingering side effects, Blaine's dastardly ways, and whether anyone actually misses Peyton. Spoiler alert – none of us do.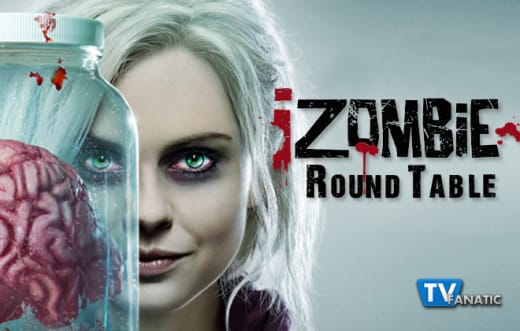 What was your favorite joke/scene/quote of the episode?
Caralynn: I think Ravi and Liv's friendship/their bantering repartee is my absolute favorite part of the series, so I'd have to go with the back and forth when Liv is complaining about New Hope (the zombie-cured rat) hating her.
Amanda: I liked Liv's interaction with Blaine. I love watching their mutual hatred for each other.
Whitney: Liv was hysterical as the cranky, opinionated, racist victim. She was killing the one liners.
Lindsay: I was a real fan of Ravi throwing shade at the Phantom Menace. Such a terrible movie...
Peyton was missing. Again. Where is this character heading, and should we care?
Caralynn: Meh, I don't really care too much at this point. Peyton was definitely an enjoyable part of the first season (when she was around and particularly with her burgeoning relationship with Ravi) but she was always kind of relegated to the outskirts. So her absence isn't particularly missed or even really felt. I'm actually finding Gilda a much more intriguing roommate right now! I didn't see that twist with Gilda being Liv's new roommate coming, honestly.
Amanda: I don't really care right now. I loved iZombie Season 1, but the big failure was the poor writing for Peyton. I want her to stick around for a bunch of episodes so I learn more about her, and therefore, hopefully grow to care.
Whitney: I never really warmed to Peyton, so I didn't feel her absence at all. They never gave her much to do, so she definitely faded into the background for most of the season. If she comes back, it'll be interesting to see if her and Ravi pick things back up and how she deal with Liv being a zombie.
Lindsay: It seems like we're all in agreement here that Peyton is the weakest link in our character chain. I'm willing to give her one more chance, but she's got to seriously impress me if I'm going to reevaluate her after a full season of no mattering.
What do you think of Blaine and Major's side effects? Any theories about possible future side effects to come?
Caralynn: Well, for Blaine this will definitely be helpful in identifying future customers! I had a feeling that the cure wasn't going to go off without any lasting effects, but I definitely didn't see Major getting tossed back into the zombie plot this way.
Amanda: I love that Major can sense when a zombie is near. That special ability will come in handy. It's a great twist to keep his character in the fold. I'm curious what other side effects may spring up.
Whitney: I don't know what other side effects are out there, but I'm excited to see more! I like that they can sense zombies, although it's turning out to be quite the curse for Major.
Lindsay: I would love to see something about the personality merge and brain visions incorporated into this cure, but for now being able to sense zombies is definitely making iZombie Season 2 more interesting!
Poor Major is now a zombie assassin for hire against his will! How do you think he'll escape the evil clutches of Max Rager?
Caralynn: Poor Major, indeed! I think he'll need to recruit Liv and/or Ravi to help him out in taking care of the Max Rager issue, though I'm not sure how he'll accomplish that without tipping the MR folks off. They've got crazy good surveillance!
Amanda: I have no idea, but it's going to be a huge moral dilemma for him. Major is not the biggest supporter of zombies, but I don't think he'll be okay with simply killing people off for no reason. Also, he may look at zombies differently now that he knows Liv is one.
Whitney: It will probably take a large part of the season for him to bring Liv and Ravi in, but that's what he needs to do. They are the closest people to him, and they're pretty darn intelligent. Between the three of them, they could figure something out.
Lindsay: I love the complete flip-flop Major has gone through between seasons. Last year, he wanted to kill anything that even seemed like a zombie, but he didn't have the know-how or tools. Now, he has everything he needs (and more), and he doesn't have any inclination to be a zombie hunter at all! Poor guy!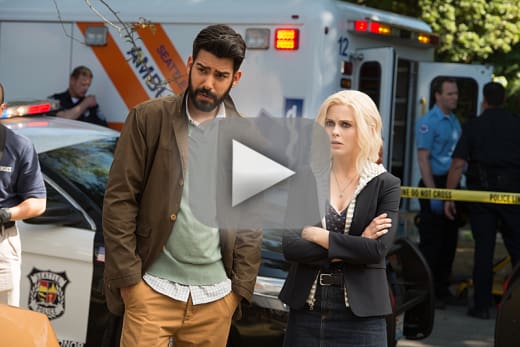 Are you glad Blaine is up to no good again? Or do you want to see him change his wicked ways?
Caralynn: I'm glad he's up to no good! I love his and Liv's adversarial relationship, especially when he's not an immediate threat/the big bad – right now, he's just a nuisance so she's not gonna go kill him over that. He's clearly not the main villain though (at least this season) – this would seem to be the season of Max Rager. I'm hoping Liv and Blaine end up needing to begrudgingly team up together to deal with common enemy Max Rager at some point.
Amanda: I'm fine with him staying a villain. As much as I love his scenes with Liv, I don't want anything romantic to happen to between them. I'd rather see them eventually have to team up. They should remain adversarial, but have to join forces to defeat their common enemy.
Whitney: Blaine can never be a good guy. It's just not who he is and frankly I don't think I'd enjoy his snarky sass nearly as much.
Lindsay: Agreed all around, Blaine as the evil-doer is the best way to go. I would love to see him be an evil-doer and be on Team Good Guy at the same time, but that kind of team up might be a little ways off.
Which storyline are you most and least looking forward to in iZombie Season 2?
Caralynn: I'm most looking forward to the Liv vs Max Rager plot and how Gilda's secret identity is going to play into that. This show desperately needed a few more regular, interesting female characters and Gilda seems to fit the bill! Least would have to be Ravi finding the cure. We all know Ravi is definitely not going to cure Liv in season two of a show called iZombie. It's just not going to happen right now. So having Ravi relegated to cure researcher seems like a waste of time for a character as great as Ravi. I hope they give him something a bit more interesting to do!
Amanda: I agree with Caralynn. I'm excited to see where the Max Rager plot line goes. I'm also curious to see what will happen with the sides effects of becoming human again for Blaine and Major.
Whitney: I really grew to love Major last season so I'm super excited to watch his arc play out. And like Caralynn mentioned, I'm interested to see what Gilda is up to.
Lindsay: I'm so excited for Gilda and her secret double agent plot, and of course how Major will react to that news! I'm not very excited for Liv's family drama, mostly because Evan and Mrs. Moore aren't very compelling characters at this point.