Leonard and Sheldon make terrible criminals, don't they?
On The Big Bang Theory Season 9 Episode 6 Leonard and Sheldon have an urgent need for liquid helium, and they find themselves breaking the rules to get it. But hey, it's all in the name of science!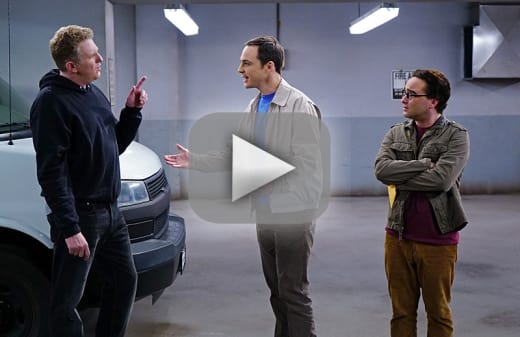 My favorite episodes of The Big Bang Theory are nearly always the ones that focus on Leonard and Sheldon, especially if they're put in a situation where they have to solve a problem together.
That's why "The Helium Insufficiency" works so well. We're able to see the similarities and differences between the two of them, and really, we're reminded why they're friends in the first place.
It's a good thing that the guy selling the helium turns out to be pretty harmless. He also finds common ground with Sheldon as they discuss semantics, which is really a hilarious exchange. Sheldon is usually someone who turns people away or unintentionally makes them angry, but here, he is able to make a connection based on those same qualities.
Meanwhile, back at Howard and Bernadette's, the gang learns a secret about Amy. It turns out she's been dating, and everyone's supportive reaction is really nice to see. Angry and downtrodden Amy isn't someone who has been enjoyable to watch, but getting her back on the dating scene? Yes, please! This is a character we need to see grow and change a bit, and to have her start dating (and not just one guy) is a great way to do it.
The whole dating app thing is also a lot of fun. Howard and Bernadette's television screen is becoming an important way for everyone to gather and for big news to happen. I love that Penny creates a drinking game out of the app for everyone to play, too.
My issue remains with Stuart. Though he's a little more likable in this particular episode, his general attitude gets old. It simply isn't funny anymore, and I don't think he makes a useful addition to the group. The cast has already gotten, in my opinion, too large for what the show tries to do, and I'd rather spend time focusing on other characters.
What did you think of this episode of The Big Bang Theory? Share your thoughts in the comments below!
Side note: The Big Bang Theory moves to Thursday nights starting November 5th.
Need to catch up on past episodes? You can always watch The Big Bang Theory online right here via TV Fanatic.
Ashley Bissette Sumerel was a staff writer for TV Fanatic. She retired in September 2017. Follow her on Twitter and on Google+.