Blindspot Season 1 Episode 7 Review: Sent on Tour
Paul Dailly at . Updated at .
Raise your hand now if you're shocked that Mayfair actually came clean to Kurt? I know that I am.
Blindspot Season 1 Episode 7 continued to throw intricate plots our way that make us question every single thing we think we know. 
We'll start with the case. It was intriguing and very different to what we've seen on the show to date. Here I was thinking there was going to be some twists that would render this week's villain a good guy.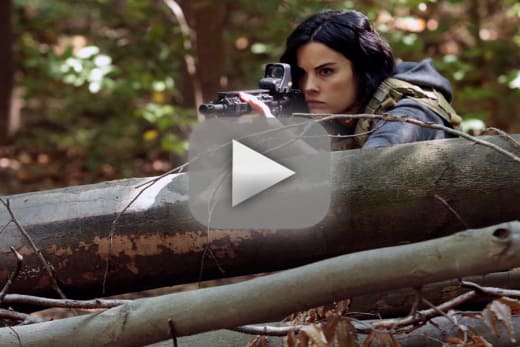 It happens way too often, especially on these types of shows, so it was a breath of fresh air that he actually stayed evil. I have to put Jane's dreams into question. She dreamt of the mysterious tattoo dude and then it turns out that he hid a box for her in the hopes that she'd find it. The actual probability of her finding it was slim to none. 
There's got to be a reason that Patterson is the one helping out. Either she knows more than she's letting on, or she's just very good at her job. Admittedly, I am enjoying her romance with her hacker bit on the side. Hopefully they can iron out their differences and return to being funny with one another. 
Patterson lost some brownie points this week because of her stupidity. She needs to be more assertive in keeping her work life away from her personal life, but perhaps she finds that a difficult task and that's why she's sent him on his sweet merry way. 
Patterson is beginning to remind of Smallville's Chloe. The two of them have similar personalities and both help the good guys. I was a little shocked that Mayfair decided to let her off with exposing the work to her bit on the side. I was convinced that Patterson would be joining the land of the unemployed daytime drinkers. 
Mayfair has solidified her allegiance to Kurt after bringing him in on Project Daylight. That's if she tells him the whole story, which wouldn't surprise me either way. 
The Sheriff in the small town was pretty creepy. From his opening scene, we knew the guy meant business and would stop at nothing to protect the town. It is his job after all. 
Luckily, he realized the error of his ways before it was too late and managed to keep our team well away from harm's way and into the hideous decor of the FBI. 
I'll admit that the writers have managed to craft more compelling cases of the week, but there is still issue with some of the dialog. It just falls flat. It was interesting just how pivotal the tattoos were on this installment because they aren't normally. Usually it's a small snippet. 
"Sent on Tour" was another solid outing for this freshman drama. It's good to know that we have at least a full season of the show to look forward to before Renewal/Cancel decisions come out. 
Remember you can watch Blindspot online, right here on TV Fanatic. Get caught up now!
What did you think of the episode? How do you feel about the direction the show is going in? Chat with me in the comments. 
Note: Blindspot Season 1 Episode 8 airs Monday November 9 on NBC.
Paul Dailly is the Associate Editor for TV Fanatic. Follow him on Twitter.