Who else has chills?
On Madam Secretary Season 2 Episode 7, Elizabeth was determined to lift the embargo on Cuba but certainly had a hard time getting the votes. I have to say this was probably one of my favorite episodes this season because it had a nice mixture of heart and politics. 
I also have to say Matt was, hands down, the MVP, but we won't get into that just yet. Let's get right down to it and discuss, "You Say You Want a Revolution."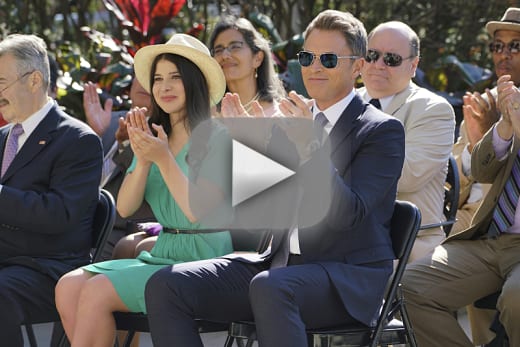 I understand why Elizabeth didn't want Matt to write the speech. She knew the only reason he wanted to do the Cuba speech was because it could possibly be historic, and she wanted emotions. I was pleased Elizabeth didn't blow off Matt after he started begging to write it and instead asked him to show her what she wanted to see.
Speaking of Cuba, it was extremely smart of Elizabeth to bring up how great it would look politically to President Dalton's administration if the embargo was lifted. Of course, downer Craig had to look at the negative aspect of it and make it sound like political suicide. It's become pretty apparent Craig will never be on Elizabeth's side.
Who else groaned when Craig claimed to not be about himself? This man has made it about himself from day one and always has something negative to say about what Elizabeth does. At least President Dalton, and even Russell, were on Elizabeth's side and saw a more positive outlook on what lifting the embargo would bring to the administration.
It was interesting seeing a different side to Elizabeth and listen to her please for votes. Everyone knows it's all about pleasing the various politicians, but the show portrayed it in a little more comical way. I give Elizabeth credit for not giving up and securing those votes as quickly as possible.
Of course things just couldn't go smoothly for Elizabeth because that is just not how things work in the political world. Henry certainly brought up some good points about Craig being behind the Afeni Rahim case. Would people really be surprised by a politician digging up dirt to get his way? 
I was shocked Russell immediately thought Henry was being paranoid by thinking Craig was behind the Rahim case coming out because I could see Russell doing the exact same thing. Thank goodness Russell was able to finally see through Craig. I really hope they come up with a great way to get Craig out of there because he's not doing the administration any favors.
In the end, Matt came through by providing the heart Elizabeth needed for her speech. It was beautifully written – Matt did an amazing job putting everything together. The entire sequence, from the speech to the raising of the flag, was extremely emotional.
Would you like them to touch on Afeni's case again? Did you enjoy more focus being on Alison as opposed to Stevie?
Don't feel bad if you missed out! You watch Madam Secretary online via TV Fanatic anytime.
Samantha McAllister was a staff writer for TV Fanatic. She retired in November 2018.