Major Crimes Season 4 Episode 11 Review: Four of a Kind

Jack Ori at . Updated at .
When Major Crimes delivers, it really delivers.
Major Crimes Season 4 Episode 11 had a little bit of everything. There was an interesting case with a bunch of viable suspects (not just people who are quirky for the sake of being quirky), some great Provenza/Flynn and Raydor/Flynn moments, and a Rusty subplot with a surprising ending.
It doesn't get any better than this.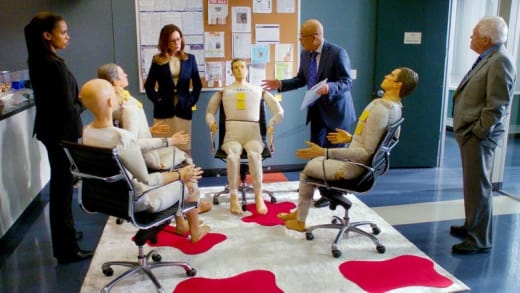 For once, I was off base about who the murderer was. From the first time she was on screen, I was expecting Anna Prager to turn out to have murdered her dad.
After all, the team was initially looking for a woman, and what better twist than to make the concerned daughter into a murderer who killed her father and whoever else for some twisted reason? Besides, all of the apps she used to track her father and Molly's whereabouts were a bit too convenient for my liking.
The reveal scene was nicely done. It was unclear what was happening or who they were suspecting and was a pleasant surprise to discover the murderer was the kid of the wrong person.
Dan Willis turned out to be an interesting character. I wasn't sure why he was so focused on his insulin, to the point where he refused his son's offer of an attorney.
If I'm still here tonight, bring me more insulin, okay?

Willis
Perhaps Mr. Willis had some clue that his son was involved with the murderers? 
In any case, it was predictable once Noah was fingered that his father would try to take responsibility for the crimes so that his son wouldn't have to go to jail. It was refreshing to see how quickly his fake confession was disposed of.
You guys. You guys. This can't be right.

Willis
I'm still not clear on why Noah committed the crimes. Was it a robbery gone wrong, or did he have some other reason? I guess it doesn't matter. The point was that for once someone the cops didn't have their eyes on turned out to be guilty.
The case wasn't really important anyway, not in comparison to the personal storylines.
Sharon and Andy's relationship is one of the best on the show. The way they awkwardly try to navigate the whole problem of being co-workers who are dating is very endearing. I really liked seeing Sharon's attempt to take care of Andy and his refusal to take his condition seriously until he was forced.
Sharon: Andy, did the doctor clear you to come back to work today?
Andy: Well... he didn't say I couldn't.
Even better than Sharon/Andy moments are Provenza/Flynn moments. We saw a little of this after Flynn had that heart problem a few years back, and when he fell off the back of that car we got to see it again. Provenza trying to wake Flynn up and being scared for him was one of the best moments of the hour. I love little moments like that, things that don't really drive story forward but strengthen the relationships between characters.
The Rusty story this week was also really enjoyable. It started out as a typical Rusty annoying Judge Grove because he doesn't know any better plot, so the twist of Judge Grove getting Rusty a spot in UCLA's program worked really well. The love-hate relationship between these two is just brilliant.
And think about going to law school, because if you're gonna argue about everything you might as well make a living from it.

Judge Grove
Where this goes should be interesting. I agree with both Rusty and Judge Grove that he's more than paid his dues and shouldn't be covering non-stories. It's thrilling that this could lead to a real career for him.
So what did everyone think? Did the mid-season premiere live up to your expectations? What was your favorite Flynn moment? How soon did you pick out this week's killer? Discuss in the comments!
If you missed anything, don't panic. You can always watch Major Crimes online and catch up!
Jack Ori is a senior staff writer for TV Fanatic. His debut young adult novel, Reinventing Hannah, is available on Amazon. Follow him on Twitter.