Criminal Minds Season 11 Episode 9 Review: Internal Affairs

doug@mediavine.com at . Updated at .
Don't you love it when a procedural takes a wildly different turn like this one did?
Though there was a nasty – and irredeemable – psychopathic unsub involved, there was also another organized but corrupt unsub there too, all wrapped up with the dark net and a drug cartel.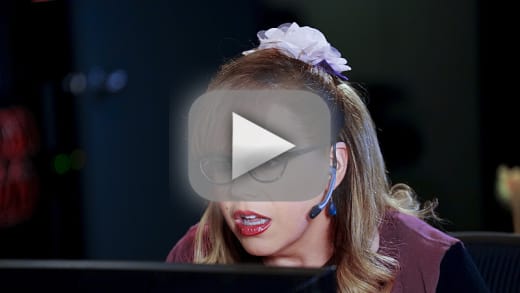 Criminal Minds Season 11 Episode 9 incorporated a maze of confused leads, agendas, computer networks and motives. And all of it was served up as excellent and unusual entertainment.
One DEA agent had been killed and another two were missing, all of which took place while they operated as undercover drug buyers, attempting to infiltrate the Libertad cartel. It turns out an NSA director had worked out a system to sabotage their efforts, by arranging for agents to be sent on a "meeting" with resident soccer mom Jillian Carter (code name Benjamin Franklin). 
Only instead of meeting them, they ended up in the malevolent hands of Jacob Dufour, a lifelong psychopath who enjoyed killing people and then carving their faces off, which he then attached to the faces of his other victims. That is, when he wasn't wearing their faces himself.
There was lots to like about this episode.
First there was the cyber element. While Garcia has been looking over her shoulder for a bunch of assassins, we haven't really had much exposure to the dark net world conspiring against her until this story.
Rough-talking, bourbon-drinking DEA assistant director Graff gave us a birds-eye view into the structure of the darknet. Many internet geeks will already know about TOR (The Onion Router), but not that it was so populated that it had become too slow for some of the illegal businesses operating there.
He told us about HORNET (High-speed Onion Routing at the NETwork level), which is another darknet router. He suggested that the group Hotch was chasing (the "dirty Dozen" assassin group) had likely already left TOR.
Speaking of Graff, man what a character he was! He looked and acted suspicious from the get-go. We never learned until near the end that he was actually on his guard against Hotch, thinking that Aaron was the mole everyone was looking for. As a plot device, the entire dynamic was brilliant.
It's been a while since the show has given us a deliciously evil and abhorrent unsub. Dufour fit the bill perfectly, particularly when he stumbled back into the barn wearing the face of his latest victim:
Sarah: John?
Unsub: Didn't kill me. [Pulls wig off and John's severed face falls to the ground]
Sarah: [screams]
Unsub: Oh wait. Guess he did. He begged me not to hurt you. To let you go because you're a wonderful person, he said. So I tried to feel what he felt for you, but to be honest, I didn't feel a thing.
That scene was freaky as hell, and was pure vintage Criminal Minds. No wonder Sarah was a basket case by the time Tara Lewis got to her.
Speaking of traditions, we've really missed this kind of affectionate dialogue between Garcia and Morgan:
Morgan: Hey baby girl, I need you to look into something for me.
Garcia: Tell me it's your melted chocolate eyes, because I'm so there.
Morgan: Likewise, but first things first silly girl.
The writers used to go overboard with it, but then they stopped altogether. This one was welcome.
Poor Garcia. She had her hopes so high that Hotch would find the assassins so she could go home. It was a nice touch at the end when Hotch decided to have dinner with her.
All in all, this was a superb episode. One that you can see again when you watch Criminal Minds online.
Final notes:
Was anyone else curious about the bad cell reception at the end of the #8 bus line? Yet somehow the unsub had enough juice to get video reception of Lewis and Morgan. Fascinating.
There was much to love in the way Lewis and JJ handled that scuzzy bartender.
The guys didn't measure up quite so well though this time, did they? Rossi with his fake "I'm sending the request to the NSA to get your phone audio file. And...SENT", or Hotch's premature "I'm taking you down."  It's good to see them stumble once in a while. Makes them human.
The song playing at the end was "I'll Be By Your Side", by Cathy Heller. It's on her album entitled "Found."
Be sure to check in next week for our review of Criminal Minds Season 11 Episode 10 entitled "Future Perfect."
Now it's your turn. How did you rate this episode, and why? Let us know your thoughts in the comments below!
Douglas Wolfe was a staff writer for TV Fanatic. He retired in 2016. Follow him on Twitter
.