Well that was a helluva performance by Scotty Lockhart before he met his maker! Kudos to Colin Donnell for bringing him to brilliant life before being shoved to his death.
Thanks to the generosity of Showtime and their early screeners, I usually have a lot of time to allow the content of this show to soak in. Not so with The Affair Season 2 Episode 12, and I'm kind of gobsmacked with all the emotions left behind after watching.
It's almost impossible to choose which character is the more heinous at this point – Noah or Alison. They're both so awful for different reasons. While Noah was most definitely in the lead prior to the finale, now that the full story of that eventful night is out in the open, Alison may have just pulled ahead. It's not exactly a contest I'd be aching to win. Oh yeah, these aren't real people!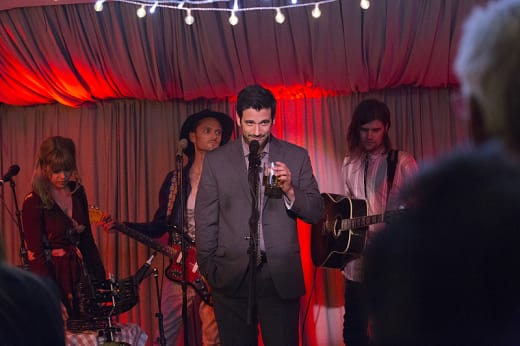 I feel badly that Cole and Luisa had a beautiful wedding, and it's going to get the shaft. There is just so much else that really needs to be covered about the terrible misdeed that occurred, how we viewed it all season and how it actually went down that discussing the nuptials falls far down on the list of priorities. 
On the other hand, it also says a lot about the nature of their characters. They're truly good people now and living life on the up and up. To Cole and Luisa! May we never hear a terrible thing about you even though your future will likely be interrupted in an abrupt way with the news that Joni is Cole's daughter. Salud!
The scenes and conversation between Noah and Helen leading up to the accident were great. I believe Noah when he recalls telling Helen he never wanted Joni, thought Alison was trapping him and ensuring he would never return to his wife. I'm starting to view Noah as somewhat of a stooge.
I tried to see what Noah saw in the boat when he and Helen were driving through the fog and the myriad past dialog with those he loved were floating in and out of his head, but I couldn't. How very odd that it was mere moments before Alison pushed Scotty into the road that Noah pulled off and asked Helen to drive, taking her hand as she sang I still want you, I still need you, I still love you. 
A little while ago it hit me that it might be Helen because she was the one person it seemed the most unlikely to be guilty of Scotty's death. It never occurred to me there might be two people in one vehicle, or three on the scene. Why, oh why can't I have more of a criminal oriented mind? It would make these things so much easier to solve.
There were two huge discrepancies in Noah's and Alison's recollections. While it could be chalked up to the incredible tragedy of the night and the sheer adrenaline that surely messed with their minds, I think it's more than that. I no longer entirely believe Alison's version of the story.
What I'm talking about is how Alison told Noah about Joni. In his version, she wasn't even sure at that time who the father was. In hers, she was absolutely sure and told him that specifically during Scotty's version of House of the Rising Sun. That's a very particular moment and one I don't doubt for a second Noah's writer's mind would recall. So why was it different?
I wish we had seen what happened after Noah dropped Helen off at her mother's house in his version of events. Did he really return and break down in tears in Alison's arms on the dance floor? Did they swear to each other at that moment their undying love? Who knew homicide was a catalyst to everlasting love.
If so, why didn't he choose her in court? "She's the mother of my kids," was his reasoning to Alison when she asked him to just tell the truth. The truth for Alison is that Helen was driving and not that Alison was on the road, in the bushes, having just pushed Scotty in front of a moving car.
Do you believe Scotty was getting physically aggressive with Alison, almost to the point of rape, just moments before she pushed him? Every time I almost think well of her, I hear Oscar in the back of my mind saying that Alison has always been this way and has never had a heart. That's where I think The Affair Season 3 will be taking us. 
How far will she allow herself to be pushed before she pushes back even harder? Noah said he was guilty as the credits rolled. Neither his attorney nor Helen will let it stand at that. 
But whose fault is it? Even if Helen had been stone cold sober, there was no way she was going to be able to stop from hitting Scotty in that situation. If Scotty was getting ready to rape Alison, wasn't it right to push him away? If Alison admits to pushing Scotty and Noah to hitting him, Helen as his passenger witness, wouldn't he just be charged with hit and run, the homicide reduced? 
It's all so convoluted and they're all lying and there is no solid evidence of what happened, who was drunk or saying what. It's a giant mess and a really well-written saga to weave into The Affair. It's far better than I ever imagined it would be.
We have a whole year to think about it. Talk about a tragedy! On the plus side, we do have that new season coming. I can remember when the teasers for The Affair Season 2 started and I never imagined it would be as good as it has been. What on earth will Season 3 bring our way?
What about you guys? Were you surprised at how the accident went down? That it was the catalyst to keep their love alive? What's next?
Can't wait to hear from you!
Carissa Pavlica is the managing editor and a staff writer for TV Fanatic. She's a member of the Broadcast Television Journalists Association (BTJA), enjoys mentoring writers, wine, and passionately discussing the nuances of television. Follow her on Twitter and email her here at TV Fanatic.