Based on the promos for The Good Wife Season 7 Episode 10, it was apparent that Eli would make some sort of revelation to Alicia in this hour, but his confession was nothing that I expected.
The obvious choice would have been that Peter was involved in her election scandal. That's news that certainly would have rocked her world and put her tenuous marriage in jeopardy, but the information Eli chose to share put a different twist on everything.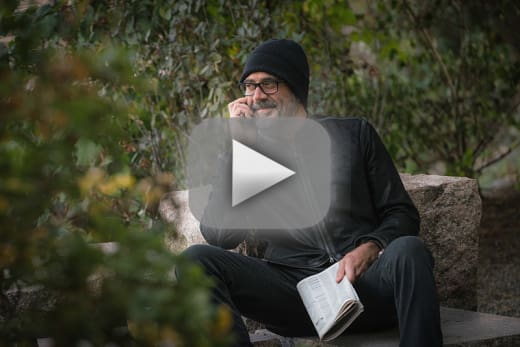 It was hard not to feel bad for Eli. He wasn't just having fun with Courtney; he'd begun to really care for her. He may have even been falling in love. Eli Gold isn't a man to wear his heart on his sleeve, yet he put it all out there in the hopes of getting Courtney to change her mind. 
But Eli was simply someone she was having fun with in Chicago, and now it was time to get back to work in California and leave him behind. The look on his face as she closed the door on him was heartbreaking.
Eli doesn't let himself care about a lot of people, and I found it interesting that this breakup sent him to Alicia's doorstep. Eli cares about her, even if Alicia seems reluctant to call it friendship. 
When he told her why he was truly sorry in this The Good Wife quote I was floored…
Six years ago you got a message from Will Gardner, a voicemail, and I erased it. You were about to go on stage and stand beside Peter for his SA run and I didn't want to hurt that. I listened to the voicemail. Will said he loved you and would give up everything to be with you and I erased it. I never let you hear it and I've been sick about it ever since and I don't want to stand in the way of your happiness again. That's why I'm sorry.

Eli
It was so long ago that I'd almost forgotten about it. Will is dead. Alicia's chance with him is dead and buried, but would she have chosen differently if she had heard that voicemail? And considering how Will's death affected her marriage, will this revelation change anything between her and Peter?  Will she finally leave him? Will she go after Jason? 
I honestly don't know, but that voicemail was a loose thread going all the way back to The Good Wife season 1, and I'm intrigued to find out where this leads.  
The case of the week also left us with questions. As horrifying as I found the doctor's fantasies, if they were just fantasies, then I agree that he was not guilty of committing a crime. The sticking point for me was that he called the "victim" the day he "planned" to kidnap her and asked to come over. That's certainly walking the line between fantasy and action. 
Did the judge overturn the guilty verdict because it was the right thing to do or because Alicia threatened him? Not even Alicia knows for sure. 
Lockhart, Agos & Lee got blindsided when their hot shot associates walked out when they were supposed to be working on a filing and then planned to take jobs at Louis Canning's firm. When Cary was offering them their jobs back I was begging that he had something up his sleeve. Thankfully, he did, and it was fun to see him and Diane high fiving one another in the end. 
That moment, along with Eli's confession, made me miss Will Gardner. Diane and Will were true partners, and the only time Alicia looked truly happy was in the moments she spent romantically involved with Will. 
Unfortunately, there's no going back, but I look forward to seeing where The Good Wife is heading when the show returns on Sunday, January 10, 2016.
If you can't wait until then, you can watch The Good Wife online here at TV Fanatic.
C. Orlando is a TV Fanatic Staff Writer. Follow her on Twitter.