The Leftovers Season 2 Episode 10 Review: I Live Here Now

Carissa Pavlica at .
Stunned into silence.
That's how I feel after watching The Leftovers Season 2 Episode 10, an absolutely stellar finale that almost, God forbid, seemed like a series finale. The final shot of Kevin Garvey arriving home to his full family, reunited, was like a gut punch of happiness, the smile on his face shining brightly.
All season long, we've been witnessing the varying degrees to which miracles truly do happen in Miracle, whether the long-term residents are willing to admit it or not.
During the finale, Meg and her Guilty Remnant hoped to either destroy the town or open its miracles to the world (I don't claim to understand the GR), but the real miracles prevailed. Despite all odds, two men with nothing in common and more reasons than not to be at odds became friends and a family became whole again. So, yes, miracles do happen in Miracle.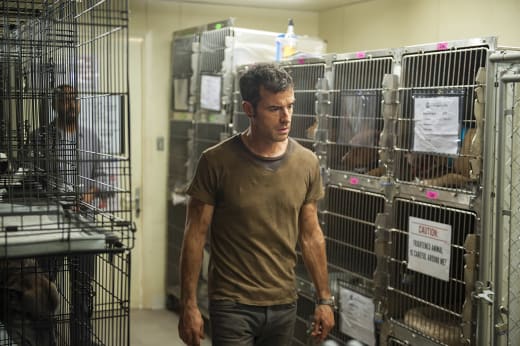 (First up, my recap of this installment is approximately 1700 words, so don't be afraid to take a look. You can get to it by clicking on the link at the beginning of this review (as you can every recap from every review on TV Fanatic). There was a heap of information tossed our way in this finale. It cannot be said it skimped in any way!)
What the cast did in the finale was nothing short of amazing. While they all deserve shout outs, three actors stood out because of the material they were given.
Regina King added to her already incredible season's worth of performances as she grappled with what Evie had done. One of her best scenes was all emotion as she was silenced by music, but there was little doubt with what Erika was dealing as she tried to understand her daughter's motivations and ensure her safety.
Kevin Carroll was doing some of his best work opposite Justin Theroux. Their scenes together were mesmerizing, especially when John came upon Kevin, alive, leaning against the blood-soaked wall. There was confusion, anger, relief and compassion all balled up that came out in a simple sentence, "I don't understand what's happening." It was brilliant.
And I'm sure nobody expected we were going to visit Purgatory again, and what Justin Theroux did with Kevin as he fought to get back to his family, this time simply singing Simon and Garfunkel's "Homeward Bound," was a task equally as raw and draining as pushing a little girl into a well. The tears he struggled to keep in check were flowing freely in this household. It turns out we hadn't seen this man at his best yet. Unbelievable.
Nobody is going to overlook The Leftovers at awards season. That would make them an idiot, and nobody wants to be called an idiot.
We went all the way back to the very beginning and discovered exactly how Evie staged the disappearance of her and her friends. They even saw Kevin take his cinder block and jump into the lake during his suicide attempt. Evie, like most others in the Guilty Remnant, needed to do more to remember what happened on October 14 because she herself lost nothing.
She apparently thought the entire town of Miracle needed to learn what it was like for the rest of the world, and with Meg's help, they set out to teach Miracle a lesson about loss. Like Meg, like Laurie, like Patti...Evie and Miracle lost nothing in the Sudden Departure. They are so pissed off about that. I've struggled with the Guilty Remnant because of that.
Their motivation of terror by way of guilt is clearer since Meg questioned the security guard at the bridge as to why the town was closed for a day of reflection when nothing happened to them.  
Early on during The Leftovers Season 2, I recognized that the town would eventually have to pay for the way they held onto their miracles and bottled and sold them for suckers to come in with the hopes of finding salvation. That was never going to work long-term. They were on a collision course with the Guilty Remnant, in a way, but we didn't know how close as we didn't know of Meg's history.
Meg wanted to blow things up, just not with a bomb. Sending in all of the people was just as effective, if not more so, than using 35 pounds of plastic explosives. But something tells me the people of Miracle will weather the storm.
Because miracles really do happen in Miracle. There is something in the water and to the quakes that occur. They seem to be answering various calls as surely as a voice from the heavens. When Nora screamed out to Jesus in anger, she was answered by a quake, and Mary woke up from her slumber. In any other town, I'd call it a coincidence. In Miracle, not so much.
So many terrible things happened in the finale. Meg tried to destroy Miracle. Still, divine providence seemed to be working on behalf of the good guys.
Mary woke up and was reunited with Matt. Jill and Laurie found themselves on speaking terms, no matter how fragile. Tom was once again with the family and Lily. Everyone, including Nora, was at home when Kevin arrived. And if nobody was waiting for John when he got there, well, hell, Kevin said he could come over to his place. 
There are some things even the worst intentions cannot destroy. Love and light can and will prevail.
That's my takeaway from The Leftovers this season. What's yours?
Carissa Pavlica is the managing editor and a staff writer and critic for TV Fanatic. She's a member of the Critic's Choice Association, enjoys mentoring writers, conversing with cats, and passionately discussing the nuances of television and film with anyone who will listen. Follow her on Twitter and email her here at TV Fanatic.