The Real Housewives of Beverly Hills Season 6 Episode 4 Review: The M Word

Christine Orlando at . Updated at .
Lisa Vanderpump doubled down on the mini-horses in The Real Housewives of Beverly Hills Season 6 Episode 4 while Lisa Rinna upped the ante on questioning Yolanda's illness. 
Is it Lyme's disease, some other illness or is it all in her head? Apparently everybody is asking about Yolanda Foster.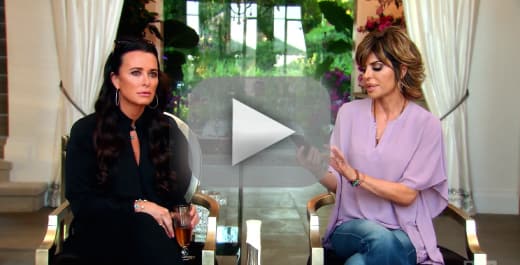 Who that "everybody" is is anyone's guess but apparently they're all tracking Lisa Rinna down for her opinion. But since Lisa's not a doctor and only visited Yolanda once, I think Kyle Richards The Real Housewives of Beverly Hills quote said it best…
Now may be a good time to keep those big lips closed.


Kyle Richards
Eileen Davidson thinks they should share the gossip with Yolanda…because sharing mean spirited gossip is always helpful! We'll see how many ways that conversation can go wrong next week.
But Yolanda's moved back to Malibu and I'm incredibly grateful. That house is amazing and we haven't seen any of it so far this season. If there's any reason to live vicariously through these women, that home in Malibu is it. 
Of course the gorgeous yacht Yolanda and David were cruising in around British Columbia wasn't bad either. Yolanda said that she and David took the trip to reconnect their souls and their love. Considering how the news is full of their upcoming divorce, we'd have to say the "reconnecting" didn't go so well.
But is Yolanda the only one having marital issues?
Eileen Davidson and husband Vince had an argument about when it was okay to have an argument. I hate to take Vince's side, but I can't help but agree with the rule about not discussing anything important before 9am. 
Then there's Lisa Rinna who continually refers to her husband as "Harry Hamlin." What's with the first and last names? Does she know a lot of Harrys? 
Kyle Richards brought her daughters to have their ears pierced and Oh My God! The drama! I had my ears pierced when I was eight and I don't think I flinched. Neither did my younger sister. These girls simply looked at the needle and the water works began. It's an entire household of drama queens.
Maybe they can all be Real Housewives someday. 
Finally, we had Lisa Vanderpump. If one miniature horse was a questionable idea, well then why not get two? They're cute, but is she really going to have them walking through her home? Can horses be house trained?
Of course the best Lisa Vanderpump line about her little ponies was this…
They just need a couple of pairs of Maloof Hoofs and we'll be good to go.

Lisa Vanderpump
Does anyone else feel bad for the little mini-horse in the tutu that they left behind in Ohio or is it just me?
Check back next week for more Yolanda drama in The Real Housewives of Beverly Hills Season 6 Episode 5 and if you can't wait until then, you can always watch The Real Housewives of Beverly Hills online here at TV Fanatic. 
C. Orlando is a TV Fanatic Staff Writer. Follow her on Twitter.