Shadowhunters Season 1 Episode 2 Review: The Descent Into Hell is Easy

Lisa Babick at . Updated at . Comments
I like this Shadowhunters much better.
Although Clary continues to move at super speed in an effort to find her mother, the pace of Shadowhunters Season 1 Episode 2 slowed down considerably from the series premiere, giving the audience, especially those who aren't familiar with the books or the movie, a chance to breathe.
Plus, it made Clary's quest much more exciting.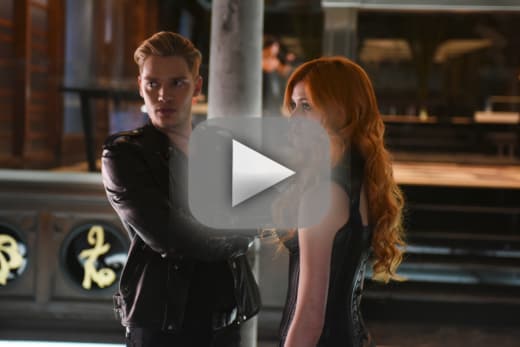 It wasn't surprising that Clary was going to choose to go with Jace. There was no way Simon was going to convince her to turn away. What was surprising was that Jace let Simon into his world so easily. But, I guess he'll do anything to find the Mortal Cup. And on that note, anything for Clary.
Alec isn't too thrilled about Simon being allowed into The Institute, but Isabelle is intrigued. She quickly introduces herself to the nerdy mundane, and he is clearly smitten. But, we all know his heart still belongs to Clary, and she is his main concern.
What's interesting is how easily the chemistry is building between these characters. Even with Alec being a hardass, they all fit together rather nicely. It's not hard to imagine these five working as a team.
While Isabelle entertains Simon in her bedroom (they couldn't have had breakfast anywhere else?), Jace takes Clary to the training room where she meets Hodge Starkweather. Hodge immediately mistakes Clary for her mother, which just adds to Clary's intrigue about this whole situation.
After finding out what they can from Hodge, Clary and Jace still have no answers. The only thing they learned of real value was that Jocelyn was a member of The Circle.
This sort of ties together the whole big bad reveal that comes later, but it was sort of obvious in Shadowhunters Season 1 Episode 1 that Valentine and Jocelyn had a thing. It was just in the way he looked at her. Plus the fact that he had no problems killing the guy who trash talked the former Circle member.
But Clary doesn't know any of this. Not yet, anyway.
After Jace realizes that her memories were wiped, they go on a quest to find Dot, who Clary thinks did the wiping. The necklace Jocelyn gave Clary comes into play too when she touches it and sees a vision of Dot. It has bothered me that Clary is so accepting of everything that has been happening, but it really kicks in when not even this phases her, because it's so normal to all of a sudden have visions. 
C'mon, there has to be something that will give this girl pause.
Clary's visions don't phase anyone else, either, not even Simon, which is just as disturbing. Out of the entire episode, this was the most unbelievable, and the part that really took me out of the story. Plus, I think it was just a tad overacted when she first touched the stone.
Thankfully, though, it didn't last long, because Dot disappeared and so did the visions.
After not being able to find Dot, Jace comes up with the plan to visit the Silent Brothers, who, with the soul sword, can retrieve Clary's memories. Alec and Isabelle are against the idea, but Jace wants the Mortal Cup and Clary wants her mother, so off to the City of Bones they go.
When the gang pulls up to the City of Bones in Simon's van, it seriously reminded me of the Mystery Machine from Scooby Doo. It's not a bad thing, really. That aside, I thought it was interesting that this mysterious City of Bones is under a bridge in the middle of what looks like a forest preserve in the middle of New York City.
Simon finally asks Clary the question I've been waiting for: how can she not be "ultra freaked out" by all of this. Her answer is exactly what you would expect Clary to say: that she "always felt like something was missing." 
I still don't buy it. Eventually the other shoe is going to drop, and this girl is going to have a meltdown. She has to.
And she does, sort of. When she finds out that Valentine is her father, I actually, finally, believed her anguish. Not so much I think from learning that interesting fact, but from learning that her mother lied to her. Her mother has been her entire life, so for her mother to have lied about something like this is devastating.
Valentine being her dad was not really that surprising. As I mentioned earlier, it was obvious there was some "thing" between Jocelyn and the bad guy. It makes sense that whatever it was, a fling or something long-term, produced a child. And I'm actually looking forward to learning about how it all came about.
Makes me kind of want to finish the books. It also makes me wonder if Jocelyn is the reason Valentine has become a bad guy, though I'm still waiting to see how bad he really is.
Clary shares the news with Jace, who has no emotion. Maybe he's just shocked. Alec, however, is immediately suspicious which is expected. He doesn't like Clary to begin with. But all is forgotten when Simon is taken hostage by a vampire. Everyone wants that Mortal Cup!
"The Descent into Hell is Easy" was a definite improvement over the series premiere. The slower pace made it so much easier to understand what was going on and to become involved with the characters and the story. While there are still some character and dialogue kinks to be worked out, especially with Clary, there is no doubt I am hooked. 
I can't wait to see what happens next on Shadowhunters Season 1 Episode 3 which airs on January 26 on FreeForm.
What did you think about "The Descent into Hell is Easy?" Hit the comments below and share your thoughts. 
Remember, you can watch Shadowhunters online anytime, right here at TV Fanatic!
Lisa Babick is a staff writer for TV Fanatic. Follow her on Twitter.