Remember how the The Blacklist Season 3 Episode 8 was a dud and felt like such a waste for a midseason finale?
Well, the return of The Blacklist Season 3 was able to kick things into gear and get the show back on course.
In fact, The Blacklist Season 3 Episode 9 probably would have been a better way to end 2015, especially considering that it didn't wrap up things involving the cabal and the Director.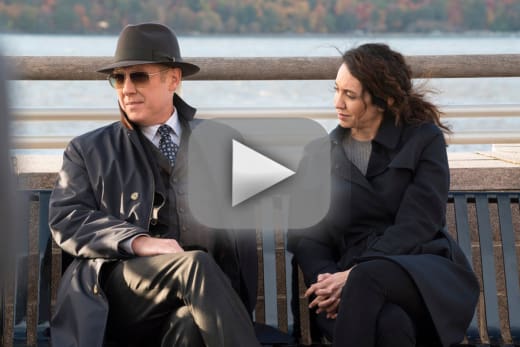 Granted, the cabal seems to be a looming threat that isn't going away any time soon, but the Director's comeuppance seems rather imminent.
Certainly, with the way the hour ended — the good guys getting their mini victory — even the story involving Liz's exoneration seems set to conclude. I just wonder if it's going to go as easy as we might suspect.
Because the Director clearly isn't finished trying to maneuver his way to get at Liz.
And it was great to see him use his power and ability to turn a negative situation toward his advantage.
It made perfect sense that Aram would be able to lock the Director out of the box (that thing really is a great set piece, though, poor Dembe just got a regular cell to wait for his freedom), but it was a clever twist that the Director was able to shut off the oxygen from getting in. It really put Aram in a difficult situation while leaving the Director with a win for either outcome.
He really is a solid bad guy for this series and that has everything to do with David Strathairn portraying the character.
Though, Liz did get some rather lucky timing at the end didn't she?
The same could even be said for Harold showing up to take down Mr. Solomon.
Once again, I thought Tom and the others at the cabin had the higher stakes, especially with the numerous cabal members at the location. It just seemed like a situation that wasn't going to end with all members getting out alive.
And even with Ressler eventually realizing the truth and then teaming up with Tom, I thought it could even be his unfortunate end.
It still seems a little silly that no one really got hurt and all those cabal guys got killed, even if the assault itself was entertaining to watch. I mean, c'mon, all of them except for Mr. Solomon? That's a stretch.
Aside from Liz and Red, the hour did do a really good job of making me think that there was a possibility that one of the other characters was going to die. Even when Aram pointed his gun at the Director, I was worried he was going to get taken out.
Speaking of Red, he seemed to have a far more minor role, even if he was orchestrating things behind the scenes. He's always a phone call away, but what the heck is his plan? That stuff with the money-making? Or what does he have planned for Aram?
I'm usually more interested in what Red is up to, so it was nice being engaged in everything else going on with the other characters.
And did anyone notice the Director bringing up Red and Liz's connection and questioning Liz on what that might be? We've got to get an answer on that before The Blacklist Season 3 ends, right? The series has been teasing that one for a good long while.
This was an entertaining hour that got all the core characters involved and gave them something important to do, and it ramped up the fight against the cabal. Did things work out a little too well for the good guys? Sure, but there's still some much needed resolution, and I smell a major twist right around the corner.
The cabal and the Director are bound to make a drastic and dangerous final move before Liz's trial, and I'm just glad that The Blacklist's return in 2016 has me enthusiastic about seeing what's next for the story and the characters involved.
What's Red's plan? Will Liz be exonerated? Will someone die? Sound off below, and see all the action again when you watch The Blacklist online now!
NOTE: The Blacklist Season 3 Episode 10, "The Director: Conclusion," airs Jan. 14 at 9 p.m.
Sean McKenna was a TV Fanatic Staff Writer. He retired in May of 2017. Follow him on Twitter.