The Expanse Season 1 Episode 8 Review: Salvage

Henry A. Otero at . Updated at .
Finally! Miller and Holden met on Eros. The pieces started fitting together nicely.
While the investigation aboard the Anubis felt a bit drawn out, we've still got a couple of hours left to check in with our heroes on Eros.
The Expanse Season 1 Episode 8 connected some of the seemingly random dots. Sad about Julie Mao, right? What was she covered in anyway?
Prepare yourselves for a cliffhanger of epic proportions. Closure is not coming.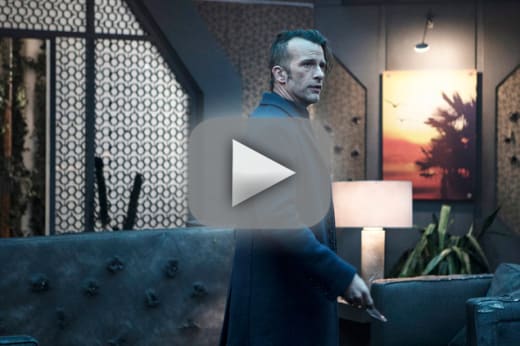 Though we were led to believe Holden's assassination by a black ops team would be front and center, this episode mostly took place aboard the Anubis.
I realize the discovery of the mysterious substance was a big deal, but I've been dying to see Miller and Holden come face to face. The payoff was great, but more on that stuff in a bit.
While a nervous Miller made his way to Eros, Holden and his crew came across the ship that killed the Cant. Did Fred Johnson know the stealth ship was hidden there?
Was this a salvage mission? Our spy, Kenzo, seemed to think so. Then again, we know that clown can't be trusted.
Miller's conversation with the Mormon was interesting. Did you notice the Nauvoo was mentioned several times. Make a mental note, because the ship will come into play (but probably next season).
We're not on a salvage mission. We're here looking for survivors and some answers... If we're lucky.

Holden
I liked that Holden appears to have settled into his leadership role. Even Amos seemed impressed, right? While I was anxious to get to Eros, I admit the tour through the Anubis tied in nicely with The Expanse Season 1 Episode 1.
The opening events of the series with Julie trapped in that tiny cargo hold came flooding back. I can't wait to watch her story unfold via flashbacks.
As soon as Naomi mentioned the reactor, it was clear she and Holden would discover that glowing blue thingamajig from the pilot. The ship was vented intentionally according to Alex, so the substance was dormant.
Did powering up the ship wake it or was it the proximity to our heroes? Alex also mentioned the short range shuttle was missing, which is how Julie reached Eros. That's right, things were starting to make more sense.
When Naomi powered down the reactor, the substance faded out. What the heck is it? I mean having read the book, I know the answer, but what do you guys think?
Is it alive? Is it manmade? Clearly the thing's a biohazard. Share your thoughts in the comments below.
Amos: Whoever was on this ship was headed to Eros from Phoebe Station.
Holden: Phoebe? Lopez said they found everyone on Phoebe dead. Some toxic spill or something. Maybe this is what he was talking about.
Avasarala moving past her old friend, Degraff's, suicide so quickly was cold. She is a piece of work, isn't she? I'm not sure whether to despise her or admire her resolve. Either way, Aghdashloo plays her to absolute perfection.
I honestly thought Kenzo wanted to help out. How gullible can I be? The second he was back online he turned on our guys. It's a damn shame he made it out alive.
The tension in that scene at the Blue Falcon was insane. Good thing Miller showed up to save the day. Yeah, I liked the guy more than ever this episode.
Again, if I had one nitpick, it's that after waiting eight hours for Miller and Holden to meet it only lasted a few minutes.
There's always the next installment for more bonding time, right? I hope the writers give this important relationship the time is deserves to make it believable.
In order to fill in a few more details, we're going to flashback to Julie's escape from the Anubis in the finale. Yes, we've all been waiting to learn her fate and clearly there's no happy ending.
It was awful when Miller discovered her body. He must have felt like all his effort was a waste of time. Holden quickly made the biohazard connection and warned everyone not to touch anything. Has the infection been unleashed on Eros?
What did you think of "Salvage"? Did nuking the Anubis destroy the "bioweapon" or simply supercharge it? Were you expecting they'd find Julie dead? Are all our heroes infected now?
And what's the deal with Phoebe Station? You're up guys, sound off in the comments below and I'll see you right back here for the season finale next week. It's going to be killer, trust me.
Relive the entire season before the finale. Watch The Expanse online via TV Fanatic.
NOTE: The Expanse Season 1 Episode 9 "Critical Mass" and The Expanse Season 1 Episode 10 "Leviathan Wakes" air back to back on Tuesday, February 2.