The Real Housewives of Beverly Hills Season 6 Episode 6 Review: Hamptons, 90210

Christine Orlando at . Updated at .
The ladies ditched Lisa Vanderpump in the Hamptons while Yolanda Foster left her boobs in Cleveland on The Real Housewives of Beverly Hills Season 6 Episode 6. 
Everyone was headed out of Beverly Hills this week but watching these ladies prep is half the fun.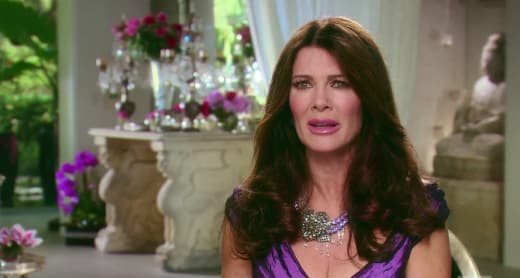 Kyle Richards discussed fashion with her seven year old daughter, Porsha. Should she wear the pale pink dress to Lisa Vanderpump's white party? Doesn't that question answer itself. White. Party. Duh. Put the pink dress away in your tiny little closet, Kyle. 
And who wants to hear Kyle whine a little more about how much bigger Lisa Vanderpump's closet is than hers? They both own more designer clothes than most normal humans will ever wear in ten lifetimes…but this Beverly Hills so I suppose the standards are different. 
Eileen Davidson is packing when hubby, Vince, gets upset about a $500 price tag on a dress. We're betting Eileen has dresses worth more than that…and it sounds like Vince should take a step back or risk having his gambling habit exposed in detail because all is fair in love, marriage, and reality TV.
Erika Girardi is picking out costumes for her alter ego as her assistant wishes he had a vagina. Yeah, you've just got to watch the scene to understand…or not understand.
I'll give Erika one big thumbs up in that she always has Yolanda's back like a friend should…not like some other "friends" who have no problems gossiping about her illness. 
Speaking of Yolanda, she and David were off to Cleveland to have her breast implants removed, and as Yolanda said in this The Real Housewives of Beverly Hills quote…
I'm going to be a toothless, boobless, brainless, wonder.

Yolanda
Even sadder was when she refused to take off her wedding ring because it's been on her finger since David put it on. Considering what's come out in the meantime about the end of her marriage, we wonder where that ring is now!
And was Dr. Feng's really the best place in the country to have this surgery? No offense, but that surgery center with the Feng Fitness sign out front didn't exactly instill a lot of confidence. 
Lisa Rinna was sanitizing her entire hotel room in Pennsylvania, not that I blame her. Hotel rooms can be nasty places for germs. Did she check under the mattress for bed bugs?
After an hour on QVC, it was off to the Hamptons. 
Couldn't Kyle or Eileen have called Lisa V. ahead of time to say the hotel was too noisy, and they couldn't sleep and perhaps invite her to the incredible private home they rented? As much as I don't blame them for leaving the place, I can understand why Lisa V. felt ditched by her friends. A little communication could have gone a long way.
Also, what was up with Lisa V.'s flower power sunglasses? I think they would have looked better on Giggy.
Check back next week when Bethenny visits The Real Housewives of Beverly Hills Season 6 Episode 7, and if you can't wait until then, you can watch The Real Housewives of Beverly Hills online here at TV Fanatic. 
C. Orlando is a TV Fanatic Staff Writer. Follow her on Twitter.