Colony Creator Teases Inspiration, "Geronimo," The Factory & More

Carissa Pavlica at .
USA Network's latest hit, Colony, has recently been renewed for a second season, and co-creator and executive producer Ryan Condal entertained reporters on a conference call to answer questions about the series.
Find out what's in store for Colony Season 1 Episode 5, "Geronimo," airing tonight at 10 on USA, as well as what inspired Condal to write about the alien occupation, why Phyllis had to die and whether or not we'll learn more about The Factory.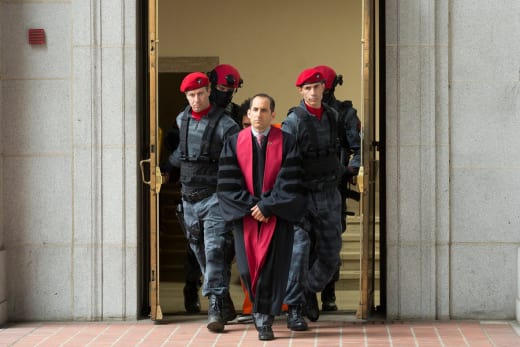 There was a definite course of thought to starting Colony after the alien invasion and not during the action. Both Condal and co-creator and executive producer, Carlton Cuse, were fascinated with the sub-genre of alien invasion, and there have been alien invasion stories told since War of the Worlds.
They really felt a new entry had to have something new to say or at least a new way to present it. "We became really fascinated with telling the story of the invasion after we lost."
"This came out of a love of history and when I initially brought the idea over to Carlton, I was really inspired by the idea of the Nazi occupation of France and of Europe and the stories that came out of this world where you were living in your home and then suddenly it changed and had become this dangerous place where the rules were different."
Condal said they believed that in order to tell the story from that perspective, the war already had to be lost and that by utilizing that perspective, there are many seasons of material ahead of them, which makes Colony really perfect for television.
If you've been reading my Colony reviews, you know I struggle with wondering with whom I'm supposed to side in the world. No one is who they seem to be. Condal was asked if it was their plan to maintain that feeling of instability or if there would be a time everyone fits together. 
He said, "It's the condition created by the fog of this war or this invasion. Unfortunately, because of the invasion, everyone in Los Angeles has had to reinvent themselves...it's the story of instability in a government, in the city that has been upended where people have to be someone new."
He also promised that for those paying attention, a lot of the mysteries or backgrounds are worked out and those who keep watching will be rewarded as the show evolves.
Interestingly, they had always planned to introduce Phyllis early on Colony Season 1 Episode 2 and "to kill her off early in the season as a way to show the brutality of the Resistance and that nobody in this world is safe, so don't get too attached to anybody"
Condal admitted people responded to her character. "She had a practical point of view on things....She was running this counter Resistance unit and would do brutal inhumane things to reach her goals, but her goals were, at least in her perspective, to keep the block safe as it can be and to minimize the loss of human life."
Through her, we were meant to see that "the Resistance is somehow effective, they are this very powerful occupying force that could lay waste to the city or kill a lot more people than the transitional authority is even harming day to day." The mystery of Phyllis, however, will be left to be debated by the audience.
Tonight's episode marks the middle of the season. Condal teased what to expect of "Geronimo," and going forward as Colony Season 1 progresses.
"We're very excited about "Geronimo," the upcoming episode, which is scripted by Carlton Cuse himself. We're very lucky to get a solid episode out of him for our first season because of his crazy busy schedule, and it's a great one, I think."
"This episode will, I think, diffuse a lot of theories and assumptions on what the show is and what's going on in the Los Angeles blocks. We will address in a big way the 'Who is Geronimo question,' which I think fans are really eager to find out." 
"And then the big thing that we do, sort of as the mid-point episode, is this episode does really transition us and set us up for the final run of the season, the last five episodes, where we will see in our continuing break-neck pace narrative, we have Will as our forced, unwilling collaborator and Katie, his Resistance-sympathizing wife, be put on a collision course together."
"You're really going to see the narrative crash together in a single line that tells Will and Katie's stories in this opposing line of the conflict in a big way that will take us to a satisfying point at the end of the season that hopefully nobody will see coming that really upends the show in a big way and sets the stage for Season 2 in such a way that, 'well, I know what this world is, but I really don't know where it's going to come back next year, but I know it's going to be in a different place.' That's the hope."
There are still a couple of new characters who have yet to be introduced, most on the Resistance side of the equation. One will be portrayed by the talented Thora Birch. With her character, Morgan, Colony will, "move into a different corner of the world."
And finally, will we learn more about the factory or see more of Carlos? From Condal we received merely a cryptic, "Stay tuned, I think fans will be satisfied before the end of the season!"
We'll definitely stay tuned, and hope that you will, as well. Be here tonight for a full review of Colony Season 1 Episode 5 after it airs and get your first look at the episode in a clip, below!
Carissa Pavlica is the managing editor and a staff writer and critic for TV Fanatic. She's a member of the Critic's Choice Association, enjoys mentoring writers, conversing with cats, and passionately discussing the nuances of television and film with anyone who will listen. Follow her on Twitter and email her here at TV Fanatic.