Say it ain't so and that's she's going to be fine! Pretty please?
A fan favorite's future is unknown, and it seems like nothing is working in Peggy's favor at the end of this two-hour Agent Carter event. 
How did what began as such an optimistic hour turn so gray, and how did it happen so quickly? 
Let's dive into all of the details of this (mis)adventure!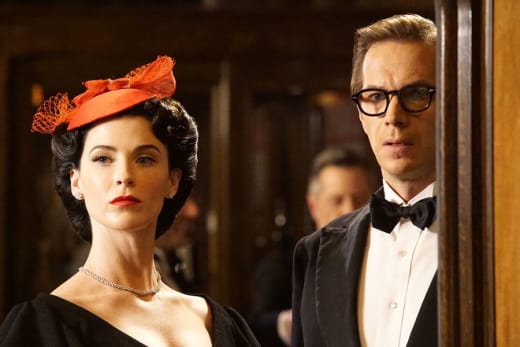 I have a terrible idea.

Peggy
On Marvel's Agent Carter Season 2 Episode 6 and Marvel's Agent Carter Season 2 Episode 7, Peggy stunned everyone by choosing to put her trust in the most untrustworthy partner.
In a team-up that we only ever could have dreamed of in the past, Peggy went to the only woman who was her complete equal in the field: Dottie. The scene in the "cube" was one of my favorites, as the two women bargained to get what they wanted from the other. 
It was followed immediately by my second favorite part where Daniel literally shot a net over Dottie and electrocuted her. Just for fun, Peggy dolled out a second dose of electricity. 
Sometimes you have to put your faith in others to get the job done.

Daniel
Seeing Dottie play on the good side for a night was a treat. She and Peggy (and Jarvis, of course) make an excellent team, despite the discomfort that it causes them to work together.
It's a shame that these two can't patch up their differences and start their own branch of field operations.
While I don't think anyone actually expected Dottie to stick to the plan, it was still awesome to watch her interact with Whitney Frost. The legitimate fear in her eyes when she discovered what Zero Matter could do is telling. To drive it home, the audience squirmed when Whitney used some of that Zero Matter power on Dottie.
Was anyone else feeling pretty badly for the Black Widow as she screamed while being devoured by Zero Matter? 
It makes me wonder about her future going forward in the series, should there be a Season 3 of Marvel's Agent Carter. 
Is Dottie becoming poised to be an anti-hero of sorts? 
It's been done before. The hero needs their villain to thrive. They always give that villain a head start to run away before they chase after. Dottie proved herself useful, although the results weren't quite what was planned. But it opens the door for that partnership in the future. 
She may have escaped Peggy this time, but something tells me that, yet again, we haven't seen the last of her. She is, after all, still useful to Whitney.
Peggy: Thompson? Our Jack Thompson?
Daniel? What the hell is he doing here?
Jarvis: He appears to be rubbing elbows with Ms. Frost and Mr. Chadwick.
Dottie: Want me to kill him?
Peggy and Daniel (in unison): DO NOT KILL HIM!
Dottie: Come on, it'll be quick!
I can't figure out Jack's MO right now, and it's incredibly frustrating. Thompson had such a great growth arc in Marvel's Agent Carter Season 1 that it's hard to see what he's become in Marvel's Agent Carter Season 2.
Any respect that I had for him went out the window when he started working with Vernon.
It's just so unlike the Jack that we know. Jack likes Peggy. He understands that she's smart and that she's valuable. He knows that if she's working on something it's for good reason.
That being said, his sudden change of heart toward her feels wrong and fabricated.
I'm hoping for a double cross on Jack's part, that he realizes he's gone insane, and that he takes Vernon down, ultimately. 
Vernon. Man, I hate that guy, especially now that's he's displaced Daniel at the SSR. But let's face it, we all saw that coming, right? 
This is not about energy. This is about power.

Whitney
Whitney certainly does have all of the power. 
She's got the new, smaller sized, council in her corner, thanks to Zero Matter obliterating the rest of the members, and her husband, Calvin, who wasn't very smart to try and capture his wife. 
But it's not enough. Whitney isn't going to rest until she's sucked every ounce of Zero Matter alive, and then created chaos in the world while making more. 
I half expected Calvin to hand Whitney a masquerade ball type of mask to cover up her cracking face, but the veiled hat is a nice new way of signifying her as "Madame Masque." It made me glad, in retrospect, that the show didn't go for the obvious.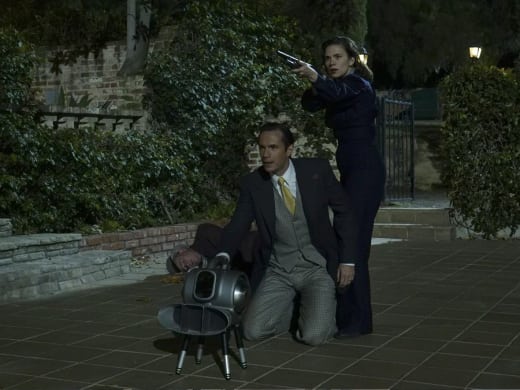 Jarvis: Miss Carter, do you not feel that the sudden and inexplicable appearance of this signal is rather convenient?
Peggy: It isn't inexplicable, Mr. Jarvis, we're walking into a trap.
Jarvis: Oh.
Oh, that trap. 
Let's rewind a bit before getting into that tragic ending.
Ana's concern for Jarvis' involvement in covert operations is very sweet. Sometimes, I think we see Peggy and Jarvis as indestructible, this perfect team that no harm could possibly come to.
After Peggy's injuries, Ana sees the reality of what her husband is in the field doing with Peggy and it's quite jarring.
Those sentiments are exactly what she's about to share with Jason Wilkes when Whitney Frost shows up to ruin everything. Whitney kidnaps Jason, but not before shooting Mrs. Jarvis. 
While the fate of Ana is still unknown, I can't help but think about the repercussions of this "adventure" for Jarvis. Obviously, he will be out for revenge, but beyond that, how will this affect him for future missions? 
This could go in two directions: Jarvis could lose his wife and head down a dark spiral, which seems unlikely. Or, almost losing Ana could make Jarvis re-evaluate what his priorities are keep him out of the field altogether. 
Have you ever seen Jarvis look at disheveled and unkempt as he did while sitting in that hospital waiting room? It was certainly the most powerful scene of the two-hour event.
Peggy: I never intended to encourage the affections of two quality suitors. It simply happened.
Jarvis: You underestimate your allure, Ms. Carter. I'm not in the least surprised.
The love triangle between Peggy, Daniel, and Jason really kicked into high gear.
First off, I've never felt more like Jarvis than in that moment when he stood in the stairwell with his jaw dropped listening to Daniel basically tell Peggy that he's in love with her. (I think Jarvis is Team Daniel, just saying.)
Daniel and Peggy almost kissed. Intentionally. They've agreed to talk about it later, both seeming very optimistic about it.  
But turning things in another direction, Jason gets his body back and the first thing he wants to do is kiss Peggy, making Ms. Carter blush. 
While I do think Peggy's heart will ultimately lie with Daniel, and I think that's what most fans want as well, I do want a good ending for Jason that isn't reliant on romance. I want him to come out of Season 2 the same great guy we fell in love with initially.
I'd hate to have him go the route where he becomes evil because of jealousy, egged on by Whitney, and one where Peggy has to take him out.  
What do you think TV Fanatics? Is Ana alive or dead? Will Whitney turn Jason? Will Peggy and Daniel EVER kiss? Sound off in the comments below!
You can watch Marvel's Agent Carter online right here at TV Fanatic, and be sure to head back next Tuesday 2/23, for another Marvel's Agent Carter  2 hour event! There's just two episodes left until the season finale! Catch up now!