The Expanse Season 1 Finale Review: That Pesky Phoebe Bug

Henry A. Otero at . Updated at .
That was one hell of a finale, wasn't it? What a terrific season of television!
Though I still feel the series works best for fans of the books, this is the kind of show built for repeat viewings. Having watched each episode several times, I can tell you there are details even I missed the first time around.
So go ahead, re-watch The Expanse Season 1 or pick up Book 1 "Leviathan Wakes." Trust me, you won't regret it.
Syfy & Alcon Ent. have merely unlocked the door to The Expanse universe. If you loved the series, turn a friend on to it. Let's get all the books adapted and on the air.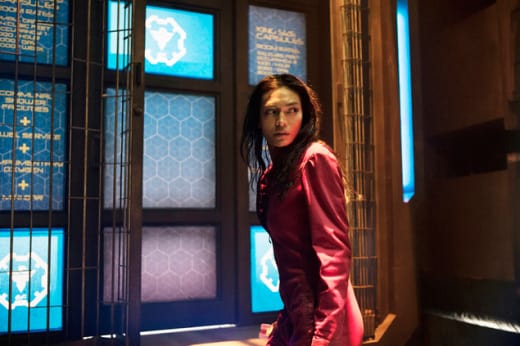 There were many wonderful moments in The Expanse Season 1 Episode 9, but the highlight of the finale for me was watching Julie's story play out. Sure, many non-bookreaders may feel letdown because after a season of searching Julie was found dead. Is she truly gone though? Isn't it possible she's in hibernation?
Remember the protomolecule is alien and it was exposure to radiation that had Eros' infected up and about. She was hit with radiation at the end. That's just a clue for you to chew on until The Expanse Season 2. *wink wink*
Anyway, back to Julie Mao. When Miller's conversation with his former partner, Muss, first took place many of us were probably scratching our heads. Now that we know the difference between the Scopuli, Anubis and Phoebe station, revisiting that scene was crucial. I loved the way they tied in Miller's investigation with Julie's final days.
Florence Faivre finally got a chance to shine in those flashbacks, and damn she's a solid actress. Jules-Pierre Mao's connection to the protomolecule soon became clear, justifying Julie's fight and sacrifice. She wasn't just some rich girl with daddy issues. Julie was a soldier.
The lead scientist coughing was not a good sign. Yep, the Phoebe bug had arrived.
Hands off that one. She's a complication. Put her in here until I figure out what to do with her.

Scientist
And that's where we meet Julie in the very first scene of The Expanse Season 1 Episode 1. This finale perfectly bookended Julie's journey, tying the narrative together beautifully. How cool was it realizing she lived through the destruction of the Cant? We then witnessed Julie park the Anubis, set the beacon and vent the ship after discovering the protomolecule. Her time on Eros was devastating and pretty hard to watch.
I think I fell as hard for her in those opening scenes as Miller did.
Of course, if the fact the thing might be a bioweapon even occurred to Julie, she should have stayed put. However, she explained she tried to keep a low profile and left a trail of breadcrumbs for Dawes. The protomolecule didn't actually spread until Dresden intentionally infected folks.
There's tons more about him and Protogen (his company) in the book, though I'm sure we'll see him again next season.
Julie's final vision of Miller, the little bird and beads is important. I have no doubt it will come into play next season. Could she hear the detective calling out to her when our heroes burst into her room? What do you think?
The finale's pacing was just right. Less than twenty minutes in, the story picked up where we left off in The Expanse Season 1 Episode 8. I hated Dresden instantly, throwing around his weight like that. Does Daniel Kash ever play a good guy?
I was able to obtain a viable sample of the protomolecule. The injections have been prepared. We are ready for lock down. The radiation units are in place. We can still do what needs to be done. We may not get another chance. We've come so far since that incredible revelation on Phoebe.

Dresden
Dresden is a slimeball, but Jules-Pierre Mao has got to be the absolute worst. Can you believe he authorized the infection of the entire station? People were soon herded like cattle into radiation units "for their protection." We learned CPM hired gangsters to do their dirty work. See why it's a good idea to question authority?
I was hoping the series would have time to show Miller and Holden bond, and they did a decent job.
Boy did Avasarala have some nerve visiting Frank Degraaf's home after her betrayal. Still, you've got to admire the lengths she'll go to for the truth. Meeting Mr. Mao is a sign she's probably not going after Johnson. Shohreh Aghdashloo has been a revelation, I can't wait to see her role even more fleshed out next season.
On Tycho Station, Fred Johnson broadcast his plea of innocence exposing Earth's guilt in the process. What an amazing speech and an intense performance by Chad L. Coleman.
This evidence proves beyond a doubt, that the ships that destroyed the Donnager were built at the Busch Naval Shipyard. They were built by Earth.

Johnson
While the first half brought the storyline full circle, The Expanse Season 1 Episode 10 gave us the struggle to escape Eros and dropped a few clues for Season 2. That's right, Miller and Holden were hit with a nasty dose of radiation. "We're dead" Holden told the detective. Did you think we'd lose our two protagonists? How long will they last next season?
If I had one nitpick, it would be that the infected waking up and spitting brown guck everywhere worked better in my head while reading the book. Perhaps the showrunners and writers wanted to avoid comparisons to The Walking Dead or Helix, but personally I wanted to see more monsters running about infecting others.
The sequence in the casino was interesting, it gave us a little bonding time between Miller and Holden. The fact Miller saw Julie makes it clear the two are connected. It's going to be a long wait until 2017 to find out exactly how/why and what happens next.
After running around in the tunnels for a while, the crew finally reached the Roci. A quick shootout later, Miller and Holden arrived at the ship disguised as CPM's. Holden handled Kenzo well, didn't he? I was thrilled the protomolecule absorbed the spy in the closing moments. Talk about a "Leviathan" eh? Eeeek! Outstanding special effects too, bravo!
I had been wondering since day one where the first season would end. Though the book continues on a bit further, this felt like a good place to pick up the story next year. Our heroes escaped, and got a fix on the bad guys while Eros Station evolved into something terrifying. Curious to learn more? Pick up the book, it's a real pageturner.
We've been asking for less ghost shows, wrestling and more sci-fi for years now. It's safe to say Syfy has delivered big time with The Expanse. Let's show them we're grateful by supporting the network and introducing new fans to the series. This incredible story simply has to continue.
Well, now you know how I felt about the finale. What did you think of "Critical Mass" and "Leviathan Wakes"? Did the season impress you overall? How about the cast of characters? Is the wait for Season 2 going to be torture or what? Thanks for all your feedback and discussing the series, Vikings is up next for me on Feb.18th. Hope to see you in the comments section there.
As always, remember you can watch The Expanse online via TV Fanatic at any time.