The X-Files Season 10 Episode 5 Review: Babylon
Carissa Pavlica at . Updated at .
Well, at least we know the Lone Gunmen are still dead.
To be honest, The X-Files Season 10 Episode 5 was a little bit confusing. Was there an actual case that called for Mulder and Scully's expertise somewhere? Was that the potential horns blasting signifying the four horsemen of the apocalypse?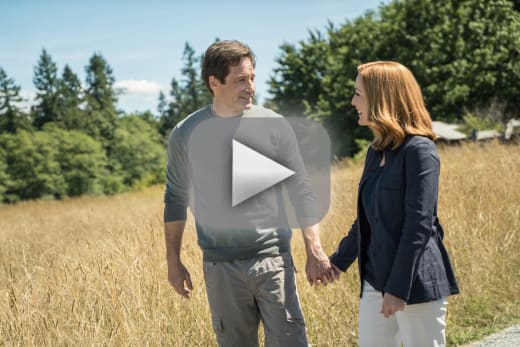 This just wasn't a good example of The X-Files, its cases or the characters' capabilities. It seemed as though someone had the desire to get something off their chests about Muslim extremism (and for once I agreed with the message, despite the awkwardness of its placement in the episode), and we needed to meet some new agents.
Will the future of The X-Files reside in the hands of Agents Miller and Einstein? Are they worthy successors? Would you be willing to watch a series based around them?
Oddly, pretty much everything I had to say about "Babylon" I said in the opening of this review. 
Unfortunately for The X-Files, in its absence, pretty much everything about Muslim terrorism has been said. However, I was pleasantly surprised at the route that was chosen here. 
It could have been interesting if they had decided to follow up on the Four Horseman angle, especially given David Duchovny's role in one of my all-time favorite movies, Rapture. If you haven't seen it, look it up. It's haunting in so many ways. 
But that was hardly discussed beyond the opening and closing scenes. Nothing else really passed as paranormal here, either. Mulder's 'shroom trip was all in his head, which gave way to their discussion of the placebo effect of the Quran, and the suggestive nature of the text to turn young man to violence, unqualified love and hate.
There must have been something at play with Mulder to have connected with Shiraz, as he received the name of the hotel housing the terrorists. Yet, it wasn't really discussed. What we did get was a really good time with Duchovny out of his Mulder element.
I honestly don't care what was supposed to be happening. Line dancing? Yes, please. It wasn't just once move, either, but a good chunk of a song's worth of moves. Then drinking with the Lone Gunmen and a shirtless Mulder. It was all good. Duchovny is always best when he's doing comedy.
I wasn't sure I would buy into Robbie Amell and Lauren Ambrose as Miller and Einstein (I definitely do NOT like the name Einstein), but they were much better than anticipated. It wasn't anything against them, but that they are known entities, and it's sometimes hard to put pull them into a franchise like this.
But they both handled the dialog really well, they held their own against the senior actors/agents and it wasn't too much of a stretch to buy them with the material.
I thought Amell struggled a little bit trying to sell Miller as the naive believer of all things weird, and I winced when Ambrose was put into dominatrix gear, but all in all, a job well done.
While I would watch a show with Miller and Einstein as leads, I'd much prefer Mulder and Scully. Making it must see TV would be highly dependent upon the stories being told, while I'd watch our regular agents do just about anything.
What about you? Would you watch a new X-Files without Mulder and Scully, or where they only showed up occasionally? What did you think of "Babylon"? What are you expecting from The X-Files Season 10 finale? Drop me a comment!
Don't forget, if you've missed out, you can watch The X-Files online to be all caught up for the big finale discussion!
Carissa Pavlica is the managing editor and a staff writer for TV Fanatic. She's a member of the Critic's Choice Association, enjoys mentoring writers, cats, and passionately discussing the nuances of television and film. Follow her on Twitter and email her here at TV Fanatic.