Maggie was right. The Hudson Valley Bluegrass Festival WAS torture.
If watching the scenes of the festival on Younger Season 2 Episode 7 seemed fun to you, you're probably either still very young or not opposed to getting your drink on for long stretches of time. 
And, hey! No judgment! It's just that without one of those two things, sleeping on the wet ground (even with a hot guy), drinking beer for breakfast and peeing in a porta-potty or the woods (if you're lucky) loses its luster.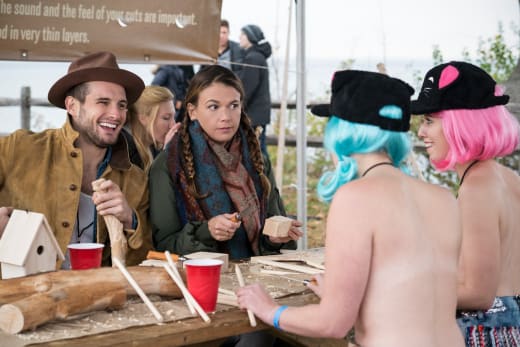 We were on high alert all around with both Liza and Diana, though. 
I hate to say it, but I think Diana deserved what happened to her with Hugh just because she lowered her expectations so much by entertaining the guy. 
Sure, Diana has her quirks, but she is a smart, attractive and successful woman. There is no reason she shouldn't be able to find a man who would want tango with her who isn't such an odd duck.
Yes, she's strong and likes what she likes, but she just made it very apparent she's also willing to give a little. No, she's willing to give quite a bit actually, so finding a suitable partner shouldn't be a problem.
But even more than Diana deserving that incident, Hugh deserved to be broken by her. What an annoying wimp of a man. He doesn't deserve to serve Diana coffee let alone be ridden by her. For shame on him. In all his studies, he has learned absolutely nothing about the stronger sex.
Now. About that festival and the timing of it coinciding with Charles being chosen to appear in By the Book.
I'm really enjoying the friendship developing between Charles and Liza. And I don't think it is anything more than friendship at the moment because of how brilliantly the major sexting faux pas was handled by both of them.
If it was more than friendship or only a business relationship, things could have gone much differently. 
I've been wondering how they would make a case for Liza to start questioning whether being with Josh is the right relationship. The way events played out definitely gave her material to work with.
She knows things like music festivals are not for her. But Josh also agreed he was probably too old for them, as well. Whether he would have felt differently if she wasn't along is questionable, but with a woman, there's little doubt he'd take the bed and breakfast.
Liza also likes deep conversations, especially about topics she loves, like books, especially when they can share how a particular book impacted their life. She enjoys someone who has traveled and knows where to find a bed and breakfast. 
It seems insignificant when she's in the now and enjoying her time with Josh, but as life progresses, these are things Liza will want in a relationship. 
That doesn't mean she'll want them with Charles, more that her interactions with him reminds her what is out there and what is missing with Josh.
Josh seems like the type who may be interested in learning those things, but he's also so sweetly naive. Posing in the robes to take a photo to thank her boss for the room and the gift basket was very sweet. Perhaps not appropriate.
The way Liza is so slowly and cautiously thinking about what could be instead of making any rash decisions is so refreshing. She shouldn't be jumping to conclusions based on single events. 
It's all food for thought. I'd love to see a heart-to-heart conversation between Liza and Maggie about everything we've been witnessing, however, to let me know if I'm on the right page or not!
What did you guys think of "Into the Woods and Out of the Woods"? Looking up the next bluegrass festival or going back to read By the Book interviews in The New York Times? Drop me a line!
If you want to see more, you can watch Younger online right here. Coming up on Younger Season 2 Episode 8, Kelsey will have a chat with an author who will make her question her life path, and she'll meet Thad's boss!
Carissa Pavlica is the managing editor and a staff writer for TV Fanatic. She's a member of the Broadcast Television Journalists Association (BTJA), enjoys mentoring writers, wine, and passionately discussing the nuances of television. Follow her on Twitter and email her here at TV Fanatic.