Who would have thought something good might come out of Cheryl's petty rival with Liza?
Because on Younger Season 2 Episode 8, when Cheryl blackmails Liza about her age, AGAIN, it results in Liza going to therapy. Granted, she's not really going because she thinks she needs it, but she's still there. Maybe it will do some good in the long run, because she's not getting out of it as easily as she got into it.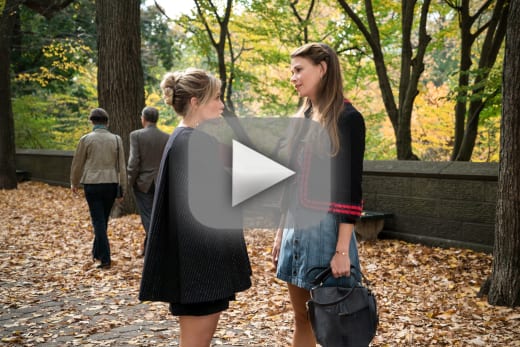 But it was Liza getting out of her relationship with Josh that really choked me up. That was one of the most painful TV breakups in a long time.
Martha Plimpton is so good at playing the pain in the ass. It's easy to tell because you can watch her comedy reruns one minute and laugh with her and then want to slap her as Cheryl on Younger the next.
Someone needs to keep reminding Liza she's 40 years old, even if it's annoying. It was brilliant the way Liza secured the book deal for Millennial Print by signing herself up as a patience with Dr. Wray. 
It was even better than Dr. Wray seemed genuinely surprised Liza was 40, so Liza's ruse still works on even those who make a living studying people. And excellent that Wray trapped Liza into being one of her test subjects, meaning the two will be working together in the future.
Liza is clearly conflicted. She's absolutely sure that there isn't a place for her in publishing if she reveals her age, but she was probably sure there wasn't a place for her in Josh's life if she did that as well. Look how that turned out.
Well, before he walked away.
The more I talk to Greta, the more I realize what a big part of my story you actually are.

Josh
The more Josh talked about Liza during "Beyond Therapy," the more worried I became. It was too easy for her walk away from him, even while watching Kelsey worry she's not making the same life decisions Liza once did and wondering if she should be more like she once was.
Talk about confusing!
As it was, Josh wanted Liza to be a part of his story. She IS a part of his story, and to not include her felt incomplete, far more to him than to her, apparently.
Nico Tortorella has the most expressive face, and whether he was catching her eye from across the street while modeling or grieving for what he was about to lose while standing right in front of her before he said he could no longer be a part of her charade, he was breaking viewers hearts as Josh tonight.
It brings tears to my eyes to recall how excited Josh looked as he approached the table with Liza, Kelsey and Lauren, unaware of the venom being spewed about him, hoping only to be celebrating with Liza about his good news, to share their good fortune together.
That was really tough, especially because Liza couldn't, or wouldn't, come to his defense as her friends tore him to shreds when she knew there was nobody he wanted to talk about for his interview more than her. 
To add insult to injury, Thad walked in, jackass that he is, and proposed Kelsey and she accepted. That she could actually turn from such vitriol about Josh, who has never done a single thing to Liza that was even comparable to the terrible things Thad did to Kelsey (a threesome for her birthday?!), to happiness about That? 
I can't. Can you? 
What's next? Who knows. It seems likely Liza will suffer after losing Josh and Kelsey will suffer for choosing Thad. 
Through it, Liza will be recalling her first less-than-perfect foray through her 20s and sharing her latest adventures in her 40s/20s with Dr. Wray. How will the Doctor spin that as a case study for her book? How will talking with the Doctor help Liza realize she's not stuck reliving the past, but can move into the present?
Will she ever make that move? Will Josh still be waiting? 
Ohhh. So many questions. So many feelings.
What did you guys think? There weren't a lot of laughs, but damn this was a fantastic episode. If you want to watch it all unfold again, you can watch Younger online right here via TV Fanatic!
Carissa Pavlica is the managing editor and a staff writer for TV Fanatic. She's a member of the Broadcast Television Journalists Association (BTJA), enjoys mentoring writers, wine, and passionately discussing the nuances of television. Follow her on Twitter and email her here at TV Fanatic.