Agent Zapata was the focus of Blindspot Season 1 Episode 14 and it was a nice change.
Jane took a backseat and while her presence was felt in every scene she was in, Zapata was the all-star and stand this week.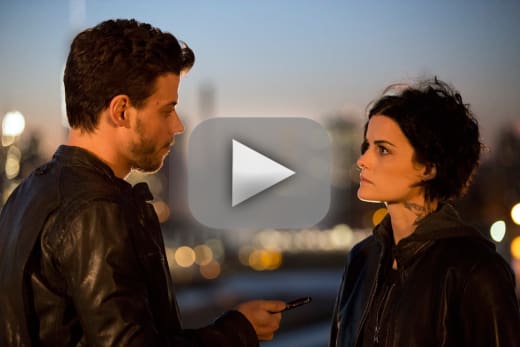 It started with us learning Zapata was being bugged by a district attorney because of her gambling problems. 
Zapata cannot catch a break when it comes to her gambling. She hasn't gambled in what has seemed like the first few episodes but somehow everyone and their mother knows about it and is using it against her.
Zapata was the focus of the case of the week. It was great to see her in action because besides brief flashes, we haven't seen her show the reasons and skills that make her such a great FBI agent. Her involvement with the D.A will only add layers to her character and I for one am very excited about that.
Let's talk about how predictable it was that Zapata was going to get captured.
Sometimes television shows make the FBI seem very incompetent. Now, I still was holding my breath when Weller and Reade were trying to save Zapata. I didn't for one second think Zapata was going to be killed but it was perfectly edited sequence.
Jane was mopping around because of the things that happened last week. She knows her team doesn't trust her but she understands why. She tells Oscar for about the millionth time that she isn't going to work with him anymore.
Wouldn't the best way to tell Oscar that she won't work with him be her stop showing up and having private conversations with him?
Why should they trust me? Why should I trust myself? I could have been anyone before this. I don't think I can do this anymore. I want to stop. I want to leave the FBI.

Jane
Oscar then does the only thing he can that will get Jane to continuing working with him. He says that his organization will kill Weller if she stops helping them. Jane and Weller are still avoiding each other and I love it.
Their awkwardness will only lead to a bigger payoff. Jane and Weller have to be end game so we all must patient. Plus they have more chemistry when just talking to each other than Weller has when flirting with Allison.
In other developments, Reade and Mayfair are still looking into Carter's disappearance.
I loved that the second Reade found out some interesting information (like Oscar driving Carter's car, how dumb was Oscar?) he was immediately hit in the back of the head and knocked unconscious. I suggest the FBI insert a class where their agents practice listening to footsteps behind them.
Reade also called Weller out for saying he can't be with Sarah when Weller has some relationship with Jane which puts the whole team at risk.
These two will have an explosive fight about Jane and it is going to be epic. My guess is it happens when Weller finds out about Reade investigating Jane.
What are your thoughts on this episode? Do you think Jane and Weller are end game? Should simply stop talking to Oscar or is she making a mistake in not listening to him? Tweet at me to let me know your theories.
Don't forget that you can always watch Blindspot online.
Kelly Thompson is a staff writer for TV Fanatic. Follow her on Twitter.