Major Crimes Season 4 Episode 22 Review: Hindsight Part 4

Jack Ori at . Updated at .
This gang war case is finally winding down.
On Major Crimes Season 4 Episode 22, the cops seem to finally have caught a break, while Rusty's problem with his bio mom was quickly disposed of.
But the best part of the hour had nothing to do with the case. Julio confronted his wife's doctor and got some surprising and upsetting news.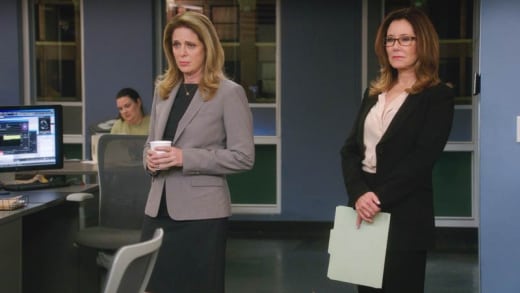 Julio's sad back story gives him plenty of dramatic material, and often it's more interesting than the case the cops are working on. His growing relationship with Stephanie has kept my interest, and his confrontation with his late wife's doctor was riveting.
Maria never outright lied to me, sir.

Julio
The look on his face when Julio saw Maria's signed consent form said it all. What will he do with this info now? It brings up as many questions as answers – will he ever experience closure about his wife's death?
Dennis: It was self-defense.
Sykes: Like hell it was. Klip.
The stakeout at the motel was useless. Cooper ended up shooting the witness the cops wanted to question and Dennis "Klip" Price looked like he was going to get away with the shooting.
Sharon's plan to inform Reverend Price of his brother's illegal activities seems to have been the break they needed. Daniel Price appears to have turned himself around for real after the Reese murder. Was he genuinely shocked that his brother was still living the drug life, or was it all an act?
I don't trust Peter. But I don't trust you people either.

Reverend Price
From Daniel's reaction it appeared that he was surprised, hurt and offended that his church was used in this manner.
I tend to agree with Sharon, though: This is all too easy, and where does Hickman fit in?
You thought of Rachel Gray as The One. She thought of you as just one more.

Provenza
Hickman was his usual obnoxious self; thankfully after he was booked he disappeared. Provenza has a point – Hickman has a strong motive for the murder of Rachel Gray, and he tends to show up seconds before evidence against the Prices comes to light. Hopefully his link to these crimes will be explained soon.
More interesting is what Sharon is going to do about Sykes' relationship with Hickman. It was only a matter of time before someone caught on, and Sharon doesn't seem the type to look the other way despite Flynn's advice to do so. 
The scene between Sharon and Flynn at the end of the hour was too short. Hopefully it is foreshadowing of things to come.
What do you think would be worse for me? Getting rid of the person who is threatening you, or finding out too late...

Sharon
Trust was the issue of the hour. Rusty might not trust his bio mom, but he'd better start trusting Sharon and the other cops. The mother/son talk was realistic, and hopefully one of these days Rusty will speak up on his own instead of needing Gus as a mouthpiece.
Was Sharon Beck lying? I don't know and quite honestly don't care. Hopefully this annoying storyline is almost at an end and Rusty can get back to pursuing his journalism career, which is a lot more interesting.
Also on the silly side was Provenza scurrying around to try to make wedding plans in between interrogations. The trope of the groom being too preoccupied to help with the wedding is overdone to begin with, and Provenza carrying a wedding planning binder all over the station wasn't all that amusing.
Do you think that Provenza and Patrice are going to end up with a real wedding? Is this the last we've seen of Hickman? Are you glad this case is almost over? Weigh in below.
Miss an episode? Don't panic! Just watch Major Crimes online to get caught up before joining in the conversation!
Jack Ori is a senior staff writer for TV Fanatic. His debut young adult novel, Reinventing Hannah, is available on Amazon. Follow him on Twitter.