Was anyone else holding their breath during the last ten minutes of Shades of Blue Season 1 Episode 11?
I had no idea what was about to happen, but I knew it was going to go bad…in the best possible way. 
For viewers that is. For Harlee and her team, it was a completely different story.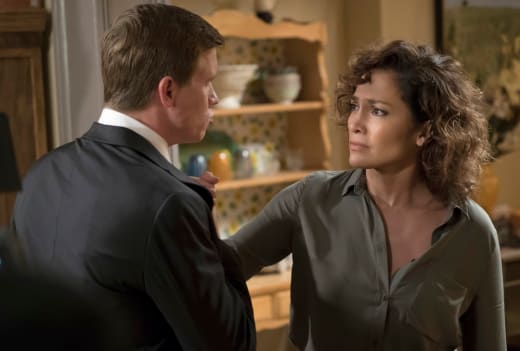 It's clear that Harlee was having a major crisis of conscience. Her loyalties have flip-flopped more than once and with good reason. 
No matter what the circumstances, Wozniak did kill Saperstein in cold blood. It's completely understandable that Harlee would lose faith in him after that, but putting her trust in Agent Stahl was a serious mistake.
Still, I find it hard to blame her. For a moment, it felt as though he was on her side when he promised to leave Miguel Zepeda to rot in prison. But for Stahl, it wasn't about being a good guy, but playing a trump card.
Stahl is obsessed with two things: getting Harlee in his bed and looking like a rock star by closing this case. He'll do anything to achieve those goals. After watching the video of Stahl with the Harlee look-a-like hooker, Harlee knows it. 
There's not much she can do about it, although I give her extra points for trying. Harlee did everything she could to keep Tess, Tufo, and Carlos away from that armored car heist, but this time her team's never give up attitude worked against them. 
Tess' Shades of Blue quote was one of the first clues foreshadowing what was to come…
I don't know when I made the decision to bend the rules for cash instead of for collars.

Tess
Wozniak may have led his team down this road, but they've all followed willingly; however, I wonder if they all would have followed if Harlee hadn't been his loyal soldier.
The moment Tufo unwittingly sent Loman after Joaquin, I knew he'd stumble upon the heist. But there were several other great twists that I didn't see coming.
Keith Colby getting his throat slit was a shocker.
Tufo and Joaquin drawing on one another in the middle of the heist.
Tess getting shot!
All of this happened while Miguel made further inroads with Cristina. If only Harlee had told her daughter more of the truth, like that Miguel was her father but was also a dangerous guy who beat the crap out of her years earlier, and maybe Cristina wouldn't have been so vulnerable to his manipulations. 
Will Miguel be willing to take a major payday to walk away from his daughter? Will there be any money left for his payoff after this debacle? And wouldn't it be horrible if Harlee went through all of this only to see her beloved daughter run off with Miguel of her own free will?
With only two more episodes remaining, Shades of Blue has become a roller coaster ride that has me holding my breath waiting to see what's around the next bend. 
If you can't wait for next week, you can watch Shades of Blue online here at TV Fanatic.
C. Orlando is a TV Fanatic Staff Writer. Follow her on Twitter.