Did Peter really just walk into Alicia's apartment and announce they were still married on The Good Wife Season 7 Episode 18? 
Despite having slept with hookers and having numerous affairs with coworkers throught the years. Peter still feels he has the right to stake his claim on Alicia when he comes face to face with Jason.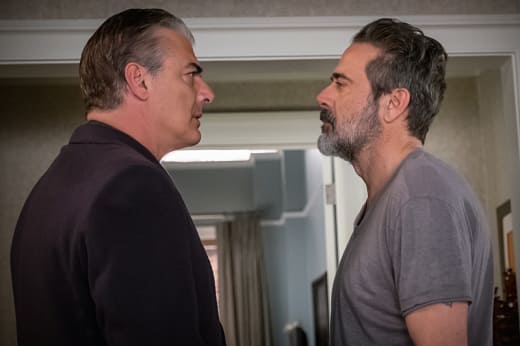 His behavior was far from a surprise; it was almost expected, and yet I'm still awestruck at what a hypocrite Peter can be. 
The best part was how calmly Jason reacted to Peter's posturing, as though he expected that behavior too. Peter stood there in Alicia's bedroom demanding to know how long Alicia and Jason have been sleeping together and whether Grace knew about it while Jason calmly told him to direct his questions to Alicia. 
Jason's refusal to be baited left Peter with one final volley in this The Good Wife quote…
Peter: I should kick your ass.
Jason: You could try. And then what?
After all of these years, Alicia finally walked into Peter's office to announce she's divorcing him and it's about damn time. Their marriage may have helped Peter's career but more often than not it's been a detriment to Alicia's. 
Peter used everything he could think of to belittle her decision from asking her if she were in love once again, a low blow referring to Will, and then used his current legal issues to try and dissuade her…
Peter, you're always being indicted. If it weren't today it would be tomorrow.

Alicia
So true. But Peter was right about this time being the real deal. Eli wasn't about to let his daughter get dragged into Peter's mess. He may not want to but I think he will testify against Peter if it comes down to it. I think Peter killed off a lot of Eli's loyalty when he ousted Eli and hired Ruth to run his Presidential campaign and, in part, that decision is coming back to bite him now. 
There were big changes at Lockart, Agos, & Lee as well. Alicia became a named partner, Howard got moved to the lowly 27th floor, David Lee cut some sort of a deal and Cary quit! 
I'm not sure what to think about Cary quitting. Working at this firm hasn't looked like much fun and Cary has clearly grown weary of all of the behind the scenes manipulations. He deserves a long vacation on that beach he keeps staring at. 
But I don't want Cary to disappear with only a handful of episodes left in the series! That would be a waste of a great character. 
Even Caitlin returned after having her daughter and won her drone case, only to reveal she and her husband have separated. Can't anyone be happy on this show?
Do you think Alicia will give Peter the stay he's looking for or pull the plug on their marriage now? Is Cary really gone for good? Will Eli actually testify against Peter?
Check back later in the week for our The Good Wife round table and if you can't wait for more, you can always watch The Good Wife online here at TV Fanatic.
C. Orlando is a TV Fanatic Staff Writer. Follow her on Twitter.