There's little doubt now that Bjorn is being positioned as the series' lead.
Will Ragnar be missed? Abso-freakin-lutely! However, Vikings Season 4 Episode 3 was proof that Vikings is in good hands with Alexander Ludwig. Yes I had my doubts early on, but I can definitely see this show continuing several more seasons.
That grizzly was nothing, just wait until the berserker shows up!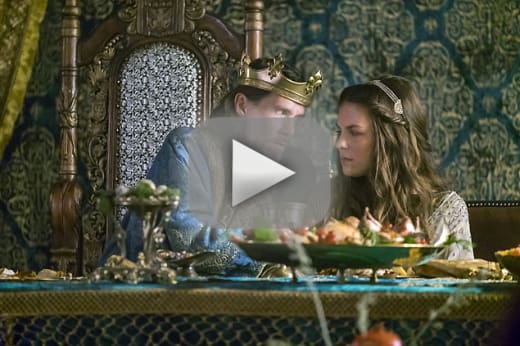 Though this installment truly belonged to Bjorn, I found myself struggling alongside Floki throughout his ordeal. Last season, I could not imagine feeling a thing for Athelstan's murderer yet Michael Hirst has managed to do just that. I am interested in Floki again (in part thanks to Helga), which is no small feat. Trust me.
Kalf professed his love for Lagertha, and the fact she remained silent spoke volumes. Sure, she is enjoying herself at the moment. However, there's no way she can trust the usurper who took everything from her betraying her trust. For the first time, I got the sense Lagertha's got a larger plan in motion.
While I feel empathy toward Floki, I've never connected in the same way with Kalf. Take him down shieldmaiden!
Of course, in the very next scene we learned that Kalf and Erlendur still want the Lothbrok's dead. Erlendur's vendetta makes perfect sense. I love that these two villains are playing the long game. That said, clearly Bjorn will survive the berserker. The character has not fulfilled his true destiny, so he is never in any real danger. For right now in Vikings Season 4, anyway.

Last week, Bjorn simply wandered around aimlessly. He made up for it this week.
However you do it, kill Bjorn Ironside.

Erlendur
In Paris, Rollo fidgeted looking extremely out of place as usual. The way Gisla looks at her husband never fails to amuse me. What a scene she made, demanding a divorce and angering Rollo. Hey, at least the whole situation inspired the viking to take French lessons. Anyone else dying to witness Ragnar and Rollo's next confrontation?
Judith's new teacher disclosed details of the raid on Paris. Naturally, her real interest in those events was any news of Athelstan. She quickly reported back to Ecbert. When Prudentius mentioned that our favorite monk should be crucified, I thought "been there, done that."
Rather than like this new monk, that nasty one line made me despise him. It no longer appears Hirst's goal was to replace Athelstan with Prudentius. They are two very different characters. I am curious about the new monk's arc though.
Floki learning the news of his daughter's death was devastating. Remember the days when he felt strange for feeling so happy? Those days are long gone, my friend. Gustaf Skarsgård does not get enough credit for bringing such a complex character to life. I'm not saying I am team Floki again, but I have learned to appreciate the character's journey.
I'm glad he's going to be sticking around a while longer; thanks Helga.
Ragnar: You haven't told him, have you? He needs to know Helga.
Floki: What is he talking about, Helga? What is it you haven't told me?
Helga: Our daughter is dead. She caught a fever. There was nothing they could do.
Bjorn finally came face to face with the giant grizzly bear and he fared much better than Leo in The Revenant. No CGI in those scenes either, guys. That was a real freakin' huge bear. I'm an animal person, so the scene was tough to watch. Still, Bjorn has been proving himself lately and this was definitely a huge moment for the character.
I loved that Ragnar felt it, and the quick flashback to young Bjorn was a nice touch.
Facing off against the grizzly (in real life) was nothing compared to diving into that freezing water. Was that Alexander Ludwig or his stunt double? It certainly was the actor emerging from the icy water. What a trooper, man. Can you imagine diving into freezing water like that? Talk about suffering for your art. Eeeek!
Ragnar telling his son's the story of the ferryman was chilling. Aslaug's reaction was priceless. Is there any truth to the tale? Is Harbard the ferryman or another name for Odin? Either way, it's going to be interesting when the man returns to Kattegat. Will Ragnar and Harbard meet face to face?
I predicted an appearance by Athelstan's ghost. The way the scene played out as both Ragnar and Ecbert were visited by their old friend was outstanding. I realized perhaps it's not just Athelstan I miss, but George Blagden's extraordinary presence on the show. Yes, it was an intense moment and I couldn't help get teary-eyed. I knew Floki was safe, but the fact Ragner told Helga she had suffered enough touched me.
So, what did you think of "Mercy"? Is Bjorn taking his rightful place as the series lead? Will the character's story captivate us as Ragnar's did? Did the king make the right decision showing Floki mercy? You're up guys, sound off in the comments and share your thoughts with me.
Remember you can watch Vikings online via TV Fanatic at any time if you've missed an episode or want to re-watch one.
NOTE: Vikings Season 4 Episode 4 is titled "Yol" and airs on March 10.