Vikings Season 4 Episode 5 Review: Promised

Henry A. Otero at . Updated at .
Way to go Lagertha! I knew she would never take that usurping thing lying down.
I will say, though Kalf sealed his fate early on, the moment itself was unexpected. I was truly shocked by Lagertha's actions in Vikings Season 4 Episode 5. She played the fool well, didn't she? The guy got what he deserved... Good riddance.
Elsewhere, Bjorn continued to impress while Ragnar's a mere shell of his former self.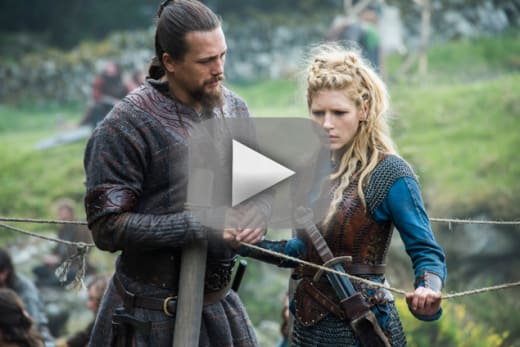 It was interesting that Erlendur was taking aim at Kalf in the opening moments of the episode, while Lagertha trained with her warriors. Looking back now, there was some serious foreshadowing going on. Kalf was a weasel and he's one character I will not miss in the slightest. That said, Lagertha sure did play him well with the whole marriage and baby angle.
That was kind of a low blow, wasn't it?
While Ragnar and Bjorn discussed family, it became clear that Ragnar still resented his son for leaving him all those years ago. He joked about being a lousy husband, but considered himself a decent father. Ragnar's focus has always been on his children, and I think even Bjorn knows this.
There is a new respect between father and son, which is important because King Harald poses a serious threat now.
Like Kalf, King Harald is mostly interested in fame. Ragnar never was, which is why he achieved it.
Bjorn: You have such ambitions.
King Harald: What else is there? What are we here for except to achieve fame? Like your father. Isn't that what you want too?
I have to say, I love Bjorn's newfound confidence and the way he spoke to King Harald. Naturally, neither Lothbrok trusts the stranger, but clearly things were going to get tense once Halfdan the Black arrived. Shouldn't the Lothbrok's be concerned King Harald's forces will overthrow them? I mean, the guy has made it clear he wishes to be king of all Norway, right? Is that his plan after Paris?
Whenever the story turns to Wessex, I tend to tune out. Another battle for Mercia is coming. However, there were some terrific performances this episode.
The delivery of Linus Roache's speech was powerful and the writing was absolutely gorgeous. Michael Hirst outdid himself, didn't he? It still amazes me the man writes this series all on his own.
In Paris, Rollo and Count Odo prepared Paris for the Vikings eventual return. I have trouble taking Rollo seriously as a noble, but his confrontation with Ragnar is going to be thrilling. Rollo has backed down in the past, how will things play out this time?
Count Odo is in the hot seat, people are conspiring against him left and right. Was anyone else surprised to learn that Roland and Therese are brother and sister? How very Game of Thrones, right?
Ragnar questioned Yidu about her country much as he did with Athelstan in the first season. Talk about ambition, was China next on his list? This new relationship is refreshing, and I am enjoying it immensely. How quickly Ragnar caught on to the fact Yidu might be royalty.
Ragnar: Are you one of the Emperor's daughters?
Yidu: My father was a merchant.
Ragnar: I know, you told me that before. I don't know you and you don't know me, yet I want to tell you my most terrible secrets.
King Harald introduced his brother Halfdan to Ragnar, but the king was not impressed. I loved the way Ragnar and Yidu watched the celebration from afar. He really opened up to her and talked of Ecbert's betrayal. That is going to be another nasty face off. Yidu came clean about her father being the Emperor, which did not surprise Ragnar. Floki toasting with King Harald and Halfdan was not a good sign. How about the thrill on his face when Ivar killed that boy? Yeah, this is a new and more wacko Floki. Watch out Ragnar and company.
While Ragnar's new relationship took flight, Lagertha abruptly ended hers with Kalf. Sure, I had a feeling Lagertha was playing a long con, but I did not imagine Kalf meeting his maker on his wedding day. That was definitely a shock, but I am glad the charade is finally over. Long live Earl Ingstad!
What did you think of "Promised"? Did Kalf's death surprise you? How do you feel about Ragnar's alliance with King Harald? You're up guys, please hit the comments below and share your thoughts with me.
Remember you can watch Vikings online via TV Fanatic at any time, day or night.
NOTE: Vikings Season 4 Episode 6 is titled "What Might Have Been" and airs on March 24.