Empire Season 2 Episode 14 Review: Time Shall Unfold
Paul Dailly at . Updated at .
That wasn't quite the hour I was expecting.
On Empire Season 2 Episode 14, Lucious Lyon became the top dog at Empire once again, and he stooped to new lows to get there. 
Straight off the bat, the most disappointing thing from this episode was that Fox aired a one minute trailer right before it that spoiled a lot of the developments. For a show that prides itself in having great cliffhangers, it sucked that the reveal was already made common knowledge through that pesky trailer.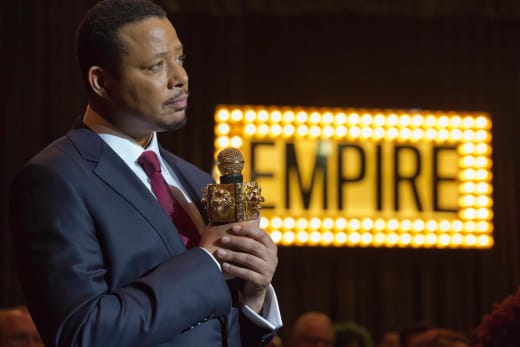 It appears that Lucious' mother is alive. It'd be a crazy twist if this somehow turned out to be someone posing as her, but she pulled off the role pretty well. This means that Lucious lied about her shooting herself.
There's also a very strong possibility that he fabricated her death to use it as a coping mechanism to move on from the ordeal she put him through. 
How will Lucious react to the news that she's alive? Well, he won't be throwing her a lavish party. That's pretty much guaranteed.
He'll no doubt be conflicted about what to do next. There's no denying that Lucious is the man he is today because of his troubled youth. There's a high chance that he wouldn't have made it all that big if he didn't just happen to be at that statue all those years ago. 
Andre will probably be ecstatic at having someone close to him who has lived with his condition for so long. All Andre needs is for someone to identify with him who he can pour his heart out to in order to help him deal with his condition.
There's bound to be a lot of drama in the way for him as we approach the final few episodes of Empire Season 2. 
Lucious may have taken the company back from Hakeem, but Hakeem still has a lot of drama left in his life. He finally found out the truth about Anika's baby, and he didn't react all that well. He's going to need to sit down with Anika and establish what they're going to do because this baby is coming soon. 
At this stage, I honestly don't think Anika is the culprit who pushed Rhonda down the stairs. Anika has been crazy in the past, but she was the sanest she's ever been tonight.
She was wise not to fall for Lucious trying to buy her off. Why does she need all that money when her family is rich? It's not like she's ever going to go without, so it was a bit odd that he opened his checkbook. 
Rhonda: Are you pregnant?
Andre: Who's the father?
Anika: It's Hakeem.
The drama with Freda is heating up, and it's getting as clear as day that she'll be finding out about Lucious being responsible for killing her father.
Am I the only one who can't wait to see how this all goes down? Jamal is being great to her, and it was nice of him to follow his heart for a change. He didn't want Cookie in his ear about choosing who went on the album. 
Cookie is obviously terrified that if the web of deceit wrapped around the Lyon family somehow makes its way to the headlines because that would signal the end of the most powerful family in the music business. 
"Time Shall Unfold" slowed down considerably from the last three crazy installments. It wasn't great, but it wasn't terrible. It seems like this episode was the calm before the storm because it looks like the drama is going into overload next week as Lucious comes face-to-face with his mother. How will that all play out?
What did you think of the episode? Are you happy with the direction the show is going in? Hit the comments below with your take on the episode.
Remember you can watch Empire online right here on TV Fanatic. Get caught up now on all the crazy drama.
Paul Dailly is the Associate Editor for TV Fanatic. Follow him on Twitter.