Once Upon a Time Season 5 Episode 19 Review: Sisters

Christine Orlando at . Updated at .
Darn it! Just when I began to have hope for Zelena, Once Upon a Time Season 5 Episode 19 pulled the rug out from under me by having Peter Pan show up and ruin everything.
I've never liked Peter Pan. His story arc from Once Upon a Time season 3 was never one of my favorites, so I wouldn't have been thrilled no matter how he reappeared.
The fact that he derailed Zelena's redemption story only made it worse, especially when she's been getting all of the best lines lately…
Do you think my sister and the rest of her terribly self righteous gaggle of do-gooder friends would want to share their home with Lord Death and the Wicked Witch?

Zelena
The flashbacks were kind of weak. I've grown so tired of seeing half of the plot in flashback's in each episode. I'd like to see them drop that structure next season.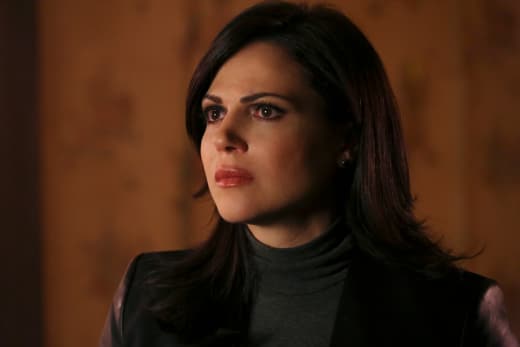 But it did show how heartless Cora was. That fact that she simply used Zelena to save Regina and then sent her back to her abusive father was horrifying. 
Worse yet, those scenes made it even more difficult to believe in Cora's redemption in the Underworld.
One moment we're watching her toss her daughter out as though she's trash, the next we're seeing her expound on the virtues of family in this Once Upon a Time quote…
You never stop being connected, right up to the end, and sometimes even after.

Cora
It's a beautiful sentiment but a little hard to swallow given everything we've seen Cora do throughout the years. Her sudden transformation into a loving, repentant mother just didn't feel organic. 
And yet, her heartfelt goodbyes to Regina and Zelena as she headed over the magical bridge brought tears to my eyes. I give credit to three incredibly talented actresses for being able to pull off a questionable plot twist. 
As happy as I am that Cora's story arc is over, I'd gladly take her back not to have to watch Peter Pan destroy Zelena's chance at a happy ending.
I'm hoping that it all works out in the end, but in the meantime it made me audibly groan. 
It also made me wonder, yet again, what the heck Belle was thinking by leaving Rumple to his own devices. Rumple's first choice is always dark magic. Did she really think that would change, or did Belle get tired of trying to hold him back and sleeping was the easiest of the options? 
David and James confrontation was as boring as it was short. The best part about it was that James is now tossed in the River of Lost Souls, hopefully to never be seen or heard from again. 
One more annoyance…we finally got to see Robin, but he didn't interact with Regina at all! It's as though they finally allowed these two to be a happy couple only to ensure they never shared any screen time. What a waste!
Despite the strong scenes between Zelena and Regina, it wasn't enough to save the rest of this episode.
Can Hades be redeemed by love? How long will Peter Pan have possession of Zelena and will that poor baby ever get a name?
See what our Once Upon a Time Round Table has to say later this week, and if you can't wait for more, you can watch Once Upon a Time online here at TV Fanatic.
C. Orlando is a TV Fanatic Staff Writer. Follow her on Twitter.