With the chaos of Victor's trial over, the big news story in Genoa City this week was Jabot's release of Passkey.
While we still don't know what it does other than revolutionize security on the internet, the public was eating it up. Nothing Victoria did at the press conference did caused any concern whatsoever and sales are through the roof.
Of course, that just means the Newmans want it even more and Jack is more frightened of blowback than ever. Not surprising? By the end of the week on The Young and the Restless, lawsuits were served to all the little people involved.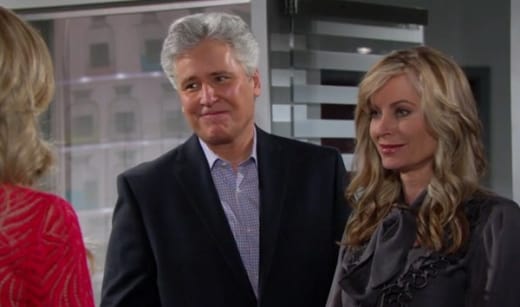 There was one Abbott who was having a good week despite the hullabaloo, though. Ashley learned Simon's cure worked. She's on the mend.
Stitch and Abby were also in the right place at the right time and discovered the news of Ashley's illness. Thankfully, it was hard to be too angry with her since they were on the tail end of the bad news.
Ashley was so happy, and the newlyweds even had a chance to champion Ashley when they realized the reason she stepped down from her foundation work was because Hillary blackmailed her due to her illness. (Poor Devon.)
Who doesn't love a good underdog tale? By the end of the week. Simon was missing in action. Why? Because when Stitch asked him if he was in love with Ashley, he said something about molecules and worried she didn't feel the same. Awww.
The look on Ashley's face when she opened the card on a giant bouquet of pink roses says she and Simon are headed for a really fun romance. Did you ever expect that when he first appeared on the scene? This is very welcome, indeed.
Fashion note: Not only did Ashley look great on Friday, but so did Abby! Her hair was styled to perfectly match her 70s inspired frock, and it was adorable. I only wish there had been a photo available.
On the bad news front? Well, if you like Victor, anyway. He was shanked in prison. 
I don't think it was Ian Ward, but it is ironic that Victor is in prison for the heinous things he did to Jack and Phyllis in the name of the Paragon Project, something they had nothing to do with, isn't it? After all, it was Ian and Adam behind it all.
Oh what tangled webs we weave.
Do you think there is someone else in prison from way back when who might want to get back at Victor for his many misdeeds and is taking the opportunity to dig in? And if so, who could it be? Or will it really just be Ian, and Ian's smooth talking his way out of it for some reason. Heck, I'd brag.
Victoria and Nick are now sharing a desk at Newman. Nick went back because he's afraid Adam will make a play for the company, when in reality (and this is exactly what Adam told Vicki), Victor wants Adam to avenge his death if he's murdered in prison.
Nick is not the best "man scorned" and always comes off seeming a little silly. 
I'll cut him some slack, however, because he had a god-awful week. Shawn had her baby and, as somewhat expected, skipped town. Honestly, I thought she'd change her mind, but not just disappear.
What was surprising, though, was how well Sage took it. She could have broken down completely, but I guess she was given enough clues that she had prepared along the way. Now we just have to wait for what Sharon and Dylan are researching (and dreaming about, in Sharon's case) to come out.
The Sully/Christian news will likely tear apart Dylan/Sharon, Nick/Sage and Adam/Chelsea. That's going to be ugly.
What did I miss? Did anything really turn you head that you'd like to comment on? Please comment and share your thoughts on the show. I'd love to hear from you!!
Carissa Pavlica is the managing editor and a staff writer for TV Fanatic. She's a member of the Broadcast Television Journalists Association (BTJA), enjoys mentoring writers, wine, and passionately discussing the nuances of television. Follow her on Twitter and email her here at TV Fanatic.