Bright horizons for (most) of the Gaffney ED.
There were no serious cliffhangers on Chicago Med Season 1 Episode 18, which is mildly surprising since Season 2 was confirmed back in February.
We did get several setups for the sophomore season though, and things look promising, even without a life hanging in the balance for several months.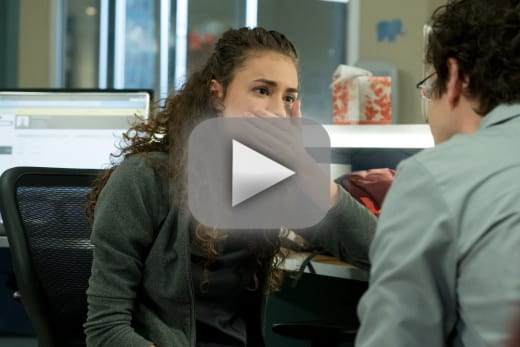 Choi's lover might be in Maryland for the summer, but at least he's got his new buddy to keep him company. By the time she's back, he may just have his PTSD under control. Which will be a relief for us, since his diagnosis was pretty cliche.
While I have a soft spot for the parrot and can appreciate the nod to nontraditional treatment programs, this storyline was just bonkers. Sure, watching Choi flap his arms around his apartment was funny, but really? They could really beef up Brian Tee's scenes. 
Also, I just wanted to yell at him to watch a YouTube video, because I'm pretty sure that's not how you get a bird to fly. I can only hope this pays off in small ways in the future – that bird better not go anywhere, and I want some subtle humor like the two of them watching Planet Earth together when a doorbell rings or something. 
Daniel: Ah, Dr. Reese. I hear congratulations are in order.
Sarah: I just quit pathology.
Daniel: [leans in] Nice fricking move. Right on sister. I knew you were smart.
Sarah's decision might have had her panicked when she fully realized what she did, but I'm with Dr. Charles. I have very little doubt that a position will open in the ED (or maybe psych since those two get on like a house on fire). A little instability can be good, as long as it's not drawn out too long.
The question is if creeper Joey will stick with her through this. Or, if he does, if they'll be able to make it. Differences in a couple can be a strength – to a point. And I think Joey may have passed that point when he went on about how (and why) he likes to be isolated from other humans. 
One thing I really liked in Sarah's story was a small, throwaway line at the beginning. She mentioned that her mother wasn't going to be at her graduation and that she was sending a check. I suddenly understood so much more about her character with that one sentence.
Joey: I know that you've had second thoughts, but it's actually a good thing that you stuck with pathology.
Sarah: It is?
Joey: Yes. You don't want to get so involved with patients. What if...that poor little baby doesn't make it. You're going to feel terrible.
Sarah: Yeah. I am.
Joey: I would too. That's why I like it down here. I'm -- I'm not good with suffering. It's just...too much up there.
Things are looking good for Will. At least for now. There was some pretty obvious hinting at a love triangle between Jeff, Nat, and Will, but I really hope it doesn't pan out.
I'm not the biggest fan of Nat and Will, mostly because he's repeatedly treated her like crap and has been overly aggressive with his interest, but I also find the idea of her hooking up with firefighter Jeff...unlikely. Maybe somebody from Chicago Justice will be single.
Or maybe a (young, beautiful) woman on television could be allowed to focus on her career and her child without having to deal with being romantically pursued.
Just kidding. That'll never happen.
Will: I promise, from now on, I'll never argue with you.
Nat: You will be an attending, so you won't have to argue with me. You can just boss me around.
Will: That's a good point.
Although the Connor/Dewey story was much more subdued than the promos made it out to be, it was by far the best acted. I don't know if Colin Donnell had to rub his face in a bouquet of ragweed or what, but his just-shy-of-ugly crying at Dewey's bedside was top notch.
His announcement of starting a cardio thoracic fellowship was touching, if a little befuddling – he's supposed to be in the middle of a trauma surgery fellowship right now. This is actually a great example of the type of thing that needs to get tightened up next year.
It would also be nice if the team putting together promos would stop over hyping, but I'm not holding my breath on that one. 
Connor [about Dewey]: He's given me so much. How do I ever pay that back?
Daniel: How do you know you haven't already?
One person that things are decidedly not looking good for is Sharon. S. Epatha Merkerson wins second place for bringing the emotion. I still think Bert may be sick, but I didn't see him just up and leaving her. What a blow! Even if he was ill, I'm not sure I could forgive that.
And poor April took a one-two punch. While I think that suddenly discovering TB in a hospital worker from an X-ray is a bit of a stretch (most hospitals require regular skin tests, after all), it was nice deviation from where I thought things were going, which was the reliable fallback of pregnancy.
I just hope she doesn't let her (pre)diagnosis impact her decision with Tate. I guess we'll have to wait and see!
I guess we're all given our measure of suffering. God's medicine

Dewey
Chicago Med Season 1 may be all wrapped up, but we'll be back when Chicago Med Season 2 kicks off, and we'll keep you up to date during the hiatus with all the news in the meantime! If you missed anything, you can watch Chicago Med online.
Let us know what you thought of the season finale and sound off in the comments!
Elizabeth Harlow is a staff writer for TV Fanatic. Follow her on Twitter.