There are still months before Homeland returns.
But answers about Homeland Season 6 may not be that hard to come by.
The big questions from Homeland Season 5 were the fate of Quinn (we thought he was dead), the status of Carrie's relationship with Otto (who asked her to marry him), and whether or not Carrie accepted Saul's offer to return to the CIA.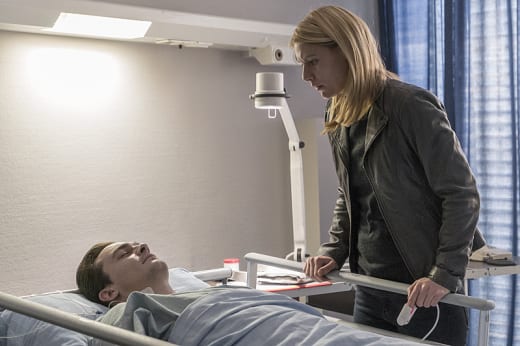 Creator and showrunner Alex Gansa, as well as other cast members, chatted with EW during a "For Your Consideration" panel held on Wednesday, sharing tidbits and secrets.
Gansa noted, "...Carrie is going to have a very different and singular journey this season than when she did when she was the station chief in Islamabad and when she was in Berlin, outside of the agency. The series is going to have a different feel this year, and it does every year, which is one of its strengths."
That doesn't specifically answer whether Carrie accepted Saul's offer, but it sure sounds close.
What else would "outside the agency" mean, exactly?
There were also some major deaths at the end of Homeland Season 5. Will they all stick? Miranda Otto was certain her character, Allison, was dead. That's good news for the star, who has her hands full with the new Fox series, 24: Legacy.
Rupert Friend, who will be returning to the series as a series regular, joked, "I hope he enjoys eating through a tube."
But Gansa wasn't quite as harsh, saying only to expect something different. "How Peter Quinn's character is gonna be dramatized this year is going to surprise people, and it may not be what you think."
Well, since we think he's dead, or like Friend, expect him to be eating through a tube, we'll expect the third option, a miraculous recovery or that what we saw Carrie about to do was somehow miscommunicated to the viewers.
After all, death isn't death on television, right?
The good news about this miracle? There is more to be explored between Carrie and Quinn. Gansa says they recognize each other, and knowing there is someone out there who does that is all we want in this world.
But that doesn't mean they're destined for love. Gansa said, "Quinn really put his life in her hands at the end of last season and we will see what decision she made, but that's going to have repercussions moving forward for her and for that idea of Quinn as well."
What about the setting of Homeland Season 6? Gansa has information on that, as well! "The whole season takes place between Election Day in November and the inauguration of a new president in January, during this strange and interregnum where a very fragile transfer of power takes place between the outgoing president and the incoming president-elect."
"There is this strange period in America where there are 72 days when it's not exactly clear who's in charge, and there is a new president that needs to be educated on what it means to be president," Gansa told EW.
"That is a very complex transfer of power filled with all kinds of anxiety and different competing interests — How do I get the ear of the new president? How does the new president elect deal with the president that's going out? — and it's a dangerous time in our democracy."
And since the show is coming back to the US, expect some characters from the past to return. There were no details given, so let your mind start wandering!
What do you think of this news? Are you ready for Homeland to return?
Carissa Pavlica is the managing editor and a staff writer for TV Fanatic. She's a member of the Broadcast Television Journalists Association (BTJA), enjoys mentoring writers, wine, and passionately discussing the nuances of television. Follow her on Twitter and email her here at TV Fanatic.