Do you believe in reincarnation?
I find it surprising that a ten-year-old boy even knows what that is, let alone that he actually has been reincarnated. 
Houdini & Doyle Season 1 Episode 2 helped paint a clearer picture of what we're in for as this series progresses.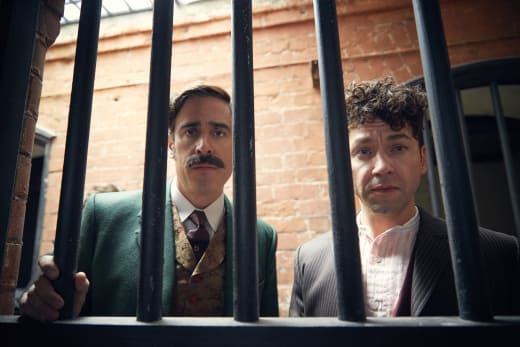 Houdini and Doyle are on opposite ends of extremes when it comes to believing in the supernatural. Doyle is quick to accept that this boy really was reincarnated, while Houdini denies every little bit of evidence that agrees with that assessment. 
I wish we could see them find more of a middle ground occasionally, but that seems to be Constable Stratton's purpose. She allows herself to consider the supernatural aspects while still pursuing other possibilities. She's basically their buffer. 
We still don't know if the supernatural is actually playing apart in these cases, and it's looking like we never will. My guess is every episode will end with them finding a logical explanation while still leaving certain questions unanswered. 
Houdini: Maybe he didn't mean it literally.
Doyle: A ten year old who speaks in metaphors?
Houdini: So he was a professor of literature in his past life.
The humor is still lacking, and the banter could definitely be wittier, but we are getting more insight into what makes these characters tick. While Doyle is motivated by his sick wife and his struggles to parent, Houdini is less of an open book. 
That's not surprising based on what he does for a living. Of course the man has his secrets. 
His "truth trade" game with Stratton was really all just his way of manipulating her into agreeing to a date, but it was obvious she could read him better than he would have liked. 
Her comment about his relationship with his father hit a nerve. He was too quick to say he and his father had a great relationship before basically running away from the conversation. There's obviously more to that story. 
I'm glad he admitted to her at the end that he used an illusion to "choose" the same fear as her. I'm not sure I really see any chemistry between them yet, but I can at least see potential for it. 
Chemistry between Houdini and Doyle is far more important at this stage though, and I hope the writers focus on building that before delving into a potential romance story line. 
The actors are talented, but sometimes watching their banter or random bets feels a bit forced. 
I found this case to be more interesting than the first one from Houdini & Doyle Season 1 Episode 1, but it's becoming pretty apparent that the case of the week is not going to be the reason to continue watching. 
I found myself caring more about what the logical explanation was going to end up being more than I did about what actually happened. I wasn't particularly surprised or interested to discover that Lydia killed Martin, or that she was motivated by what she thought was a dead baby. 
Maybe it's the skeptic in me, but it was definitely more about them proving there was a logical explanation rather than reincarnation being behind it. 
Yes, as said before, there were still questions left unanswered, and that's clearly the direction each case will take, but I personally will be spending each episode looking for the logical explanation.
Don't get me wrong, I love shows that delve into the supernatural, but I think I prefer when I know what they are one way or the other. I want a show that either exists in the real world, or doesn't, rather than attempting to play it both ways. 
How about you guys?
Is this show doing enough to keep you interested? Do you wish there was more (or better) humor? Hit the comments and let me know if you are in this for the duration. 
If you need to catch up, you can always watch Houdini & Doyle online. 
Stacy Glanzman is a staff writer for TV Fanatic. Follow her on Twitter.