What an ending!
It's safe to say no one wanted to be in Henry's shoes on Madam Secretary Season 2 Episode 22, but at least his faith in people doing the right thing came true.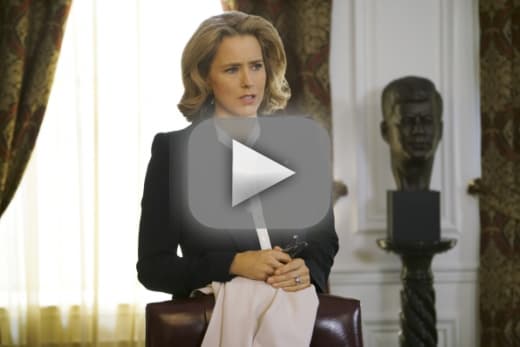 Thank you Russell, for actually saying something I've been thinking for the past couple of weeks. I've always questioned why President Dalton would let his three greatest assets enter such a dangerous area. 
Murphy's Station was needed to get intelligence on Jibral Disah while also finding out where he was located. The moment they found his location they should have sent a special task force to take him down, but no, President Dalton sent his entire intelligence team. 
Why would he risk the lives of Jane, Henry and Hose when their knowledge, and research, is what his administration desperately needs? I did get where Jose was coming from when he wanted to stay to go  after Jibral Disah. 
Jose is a military man, and he wanted to complete his mission. It would have made much more sense to send Jose, and special forces, to go after Jibral Disah. They could have easily kept Henry and Jane out of harm's way. 
I wasn't surprised when Elizabeth voiced wanting to back whatever Murphy's Station wanted to do. I would imagine Elizabeth felt as though she needed to support whatever decision Henry decided to make. They wouldn't have listened if she would have said they shouldn't go ahead with it. 
She may not have agreed with the mission, but it was already taking place. I highly doubt Jose would let them turn back even if President Dalton was the one who ultimately made the call. 
Did they really think Russia was going to go along with the render safe? I don't understand how they could put so much trust in a country which, not long ago, wanted to take them down. There was no way Russia was ever really going to go through with the render safe.
I had a feeling Konstantin was going to throw the whole Air Force Once fiasco in Elizabeth's face; though I really can't blame the guy because the United States was wrong. 
Let's be honest, the whole Jibral Disah mission was completely ridiculous. First of all, how the heck did they not have the drones ready? Jose had called for them to be prepared an hour prior to leaving and they took three minutes to show up. 
I know, I know, things were behind because of Russia, but come on! Secondly, how did they now have someone there prepared to bring Murphy's Station to safety? They just killed the most wanted terrorist, but no one was there to help them. 
Last, but certainly not least, they should have known that just because they killed Jibral Disah it didn't mean Hizb al-Shadid would just disappear. Of course Hizb al-Shadid was behind the nuclear warheads going missing – they're terrorists for goodness sakes. 
Who else was loving Jay and Walter's banter? I'm really pleased they decided to bring Walter back because he's probably one of the smartest people in the White House. 
Case in point, Walter though up the brilliant idea of tracking down one of the fourteen scientists who have knowledge of how a nuclear bomb works. Who else would think of something so clever? Maybe Walter should look into running for President. 
On a completely different note, I really appreciated how they mixed in some comedy with the intense drama. My favorite moments had to be Blake trying to get Alison's permission slip signed, but not knowing the proper procedures for sending it in. 
Blake: What am I taking care of?
Elizabeth: Appeasing a racist Quaker.
I couldn't help but laugh when Elizabeth told Blake he would have to be the one to call the dean of the school because she couldn't promise she would be polite. While everyone else was trying to take down a terrorist organization, Blake was trying his hardest to get Alison to New York. 
Elizabeth may be able to take down dictators easily, but she just can't seem to get things right when it comes to the dean at Alison's school. It was hilarious listening to her dig her grave just a little deeper with each thing she said, but hey, parents are allowed to make mistakes. 
In the end, thanks to Walter's brilliant idea, they were able to get the nukes back and get Murphy's Station to safety. Even though I figured Murphy's Station would be rescued there was just something about said rescue which brought tears to my eyes. Their mission is finally over. 
Of course the biggest shocker, or not a shocker depending on who you are, Dimitri is very much alive. The moment Henry found out the Russian government was refusing to hand over Dimitri's body I knew he would be revealed as being alive. 
I'm interested in seeing how this is all going to play out. Why would they hold him without telling Henry? Henry, and Elizabeth, are not going to let things rest until they get the entire truth out of President Dalton. 
Now it's your turn to tell me what you think. Did you think it was too easy to kill Jibral Disah? Were you surprised by Russia backing out of the render safe? Why do you think President Dalton has been keeping Dimitri being alive a secret?
You still have time to catch up before the shocking season finale. Go watch Madam Secretary online now via TV Fanatic. Just make sure to come back to let us know what you think. 
Samantha McAllister is a staff writer for TV Fanatic. Follow her on Twitter.