Person of Interest Season 5 Episode 3 Review: Truth Be Told

Sean McKenna at . Updated at .
It is exciting to see past characters keep popping up on Person of Interest Season 5.
Finch's love, Grace, made an appearance on Person of Interest Season 5 Episode 2, and Kara Stanton, Reese's old CIA partner, returned on Person of Interest Season 5 Episode 3 for some flashbacks.
What other characters might reappear for the final season? Leon? Zoe?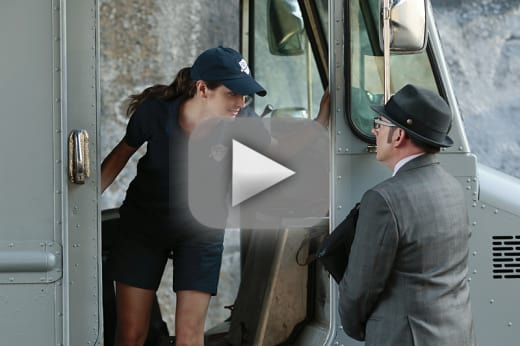 Maybe one of those characters might be able to flip Reese's thought process on getting to balance saving the world with having a girlfriend.
I'm kind of surprised that Reese chose to end things with Iris. It seemed to be going so well with those two, even with all the danger that Reese gets himself into.
But his past, especially that talk with Kara about having no ties, really seemed to make him think he can't have someone he loves around while he's fighting the fight.
And his new job seems to make the same demands of him, at least, from his perspective.
Will the job ever stop for Reese? Will he get to ever have a "normal" life?
It certainly makes me think of Finch's decision to leave Grace behind. Both these heroes chose to give up someone they care about.
I can only hope that after the battle with Samaritan, Reese and Finch might get to have a happy ending.
Either way, the ending as Reese walked away from the camera was a somber one.
That said, even with the flashbacks and the general focus on Reese, the episode was pretty much a standard case of the week.
And that's fine, but I was expecting a little more considering it is the final season.
Though I did like that Reese told Duncan that his brother was innocent. It allowed him to let go and move on.
I did expect his former boss to say something, but I was glad that he backed Reese up on his statements.
There was definitely some solid mutual agreement from the two, and their final conversations further captured that. I wonder if that is the last we've seen of Reese's old boss?
Additionally, there was at least a little movement on the Samaritan front, with Finch and Root finding out that the malware was being used on various devices and "working toward something."
But it was Root's talk about change and taking risks that really hit home. The team is going to have to take some risks when it comes to the battle against Samaritan, and change is definitely coming.
While I liked getting some flashbacks and the focus on Reese, this was just an OK episode. Though I'm sure, things are going to start picking up again real fast.
Should Reese and Iris have stayed together? Should the team take more risks? Sound off below, and watch Person of Interest online at TV Fanatic!
NOTE: Person of Interest Season 5 Episode 4, "6741," airs May 16 at 10 p.m.
Sean McKenna was a TV Fanatic Staff Writer. He retired in May of 2017. Follow him on Twitter.