There's so many familial secrets and connections on The Blacklist, you'd think Red would probably also know who Rey's parents are in "Star Wars."
It's funny though, considering all the mystery that surrounds Red's connection to Liz (The constant question of "Is he her father?"), he wasted no time in revealing that Scottie is Tom's mother.
Now why couldn't he just do something like that when it came to Liz?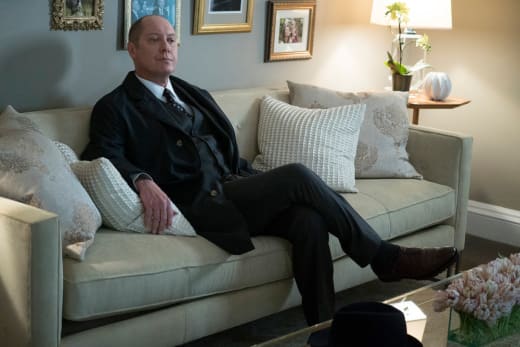 The ending of the The Blacklist Season 3 Episode 22 definitely sent Tom for a loop, and it switched directions, or at least began the diverging of paths that could lead us down the road to answers on that potential spin-off show.
Because why shouldn't Tom tell his mother the truth? Why does Tom need to keep it a secret, and what secrets does Scottie hold that Tom would want to know?
I'm definitely intrigued, especially because we've been with Tom since The Blacklist Season 1, and I'm much more curious about where his story might go after the events of the hour.
And boy was it a snappy and fast-paced episode that at times had hints of an "Ocean's 11" vibe, and dare I say, even a little "Mission: Impossible"?
Robbery sequences on shows and movies usually prove to be entertaining fare, but the one involving Tom and Solomon definitely felt cliche, even if it was just a diversion.
I mean, who wasn't expecting the random hero to pull his gun and try and take down the robbers before getting shot?
That said, I liked that Tom was willing to risk the mission to save the girl who was shot.
Having Agnes has changed him in that respect, but he's just as determined as ever when it comes to finding his closure for Liz in taking down Alexander Kirk.
The undercover job for Tom was far more entertaining, and raised the stakes on what was going to happen.
From Tom's clever maneuvering to drug the money man to the Discount Double-Check Guy working the computer to just pulling off the escape, things had an intensity while still being just light enough to have a fun quality to them.
Though, Tom shooting Solomon and ditching probably puts a damper on the whole team aspect.
I mean, that doesn't just make them even now, does it? They aren't going to team up again, right?
It was a nice twist bringing all the various players together to face off against their common enemy in Alexander, but I'm not surprised that there were tensions in the groups working together.
I did wish we had a little more from the FBI team, but it was good to see them all coming together for Agnes' christening. And it was a sweet moment with Tom talking to them about being family, even if it was a dysfunctional one where they occasionally tried to kill each other.
But even with hints at a new story and direction for Tom, the underlying focus was still about Liz and Alexander.
And I'm glad that Alexander isn't worried about Red even if Red has his money and his senator. This guy is willing to face off, and those comments about pulling the trigger when Red had the gun in his mouth just further fuels that fire about their past.
It should be an exciting showdown.
While I could have used Red and the FBI team perhaps a little more, this was an overall entertaining hour to lead into the season finale. Alexander seems right within grasp (and perhaps some of his secrets, too), and it's exciting trying to guess just where The Blacklist could possibly be headed next.
Maybe there's a secret uncle we've yet to learn about?
Were you shocked Scottie is Tom's mother? Will Solomon come after Tom? Will Red get Alexander? Sound off below, and be sure to watch The Blacklist online before the final episode of the season!
NOTE: The Blacklist Season 3 Episode 23, "Alexander Kirk: Conclusion," airs May 19 at 9/8c.
Sean McKenna was a TV Fanatic Staff Writer. He retired in May of 2017. Follow him on Twitter.