The Night Manager Season 1 Episode 6 Review: Episode 6

Lisa Babick at . Updated at .
The jig is up for Pine.
Roper finally figures out the truth about Pine on The Night Manager Season 1 Episode 6, making for a very tension-filled conclusion to the AMC miniseries.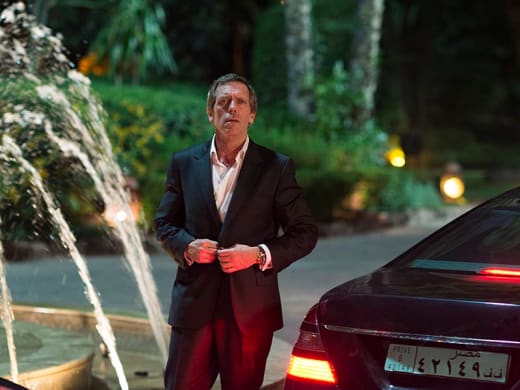 We all knew that Roper would eventually figure it out, but it sure took a long time for him to get there. It blew my mind how careless Pine and Jed were being continuing their flirty behavior right out in the open for everyone to see. 
I couldn't believe how brazen Pine was at the hotel bar when he went up to Jed to ask her about the papers. Roper was right there; how stupid could they be? I was thrilled that Roper finally saw that something was going on between the two. 
Obviously, he was already suspicious of Jed otherwise he would not be making Caroline spy on her. Knowing this, you'd think they'd be more careful. Why push it by actually touching hands?!!!
It certainly upped the tension. 
You have to admire the calm demeanor of Pine. Even though you could see a flicker of fear in his eyes when Hamid showed up at breakfast, he shoved it down fairly quickly. I also wondered from Roper's questioning if he was already becoming suspicious of Pine.
Did he know Pine was in Cairo before? It just seemed like he was leading him on with his questions.
I was surprised that Hamid didn't recognize Pine, especially considering how frantic he was in The Night Manager Season 1 Episode 1 when he was looking for Sophie. But, that was a long time ago and Hamid's had too many drugs and drink since then. 
The revelation on Hamid's face at the pool when he finally recognized Pine was priceless. I knew the minute Pine took off his jacket that Hamid was done for, and Pine didn't disappoint. This really showed how far he was willing to go for a woman he loved, so you pretty much knew he was going to do just about anything for Jed.
Poor Jed. She's another one not thinking clearly. She played with fire getting that safe combination, and it was pretty clever the way she passed on the code to Pine via the roulette table. But wow, the look on her face when she knew she was busted...
Oh, Jemima. You let someone break in here and steal from me. The question is who. Please don't tell me it was Corky, because I might not believe you.

Roper
I absolutely loved when he let her know he knew about her and Pine. I knew all that googly-eyeing would get them into trouble.
But, Pine is clearly smarter than Roper. The plan he had to take down Roper was brilliant. And he didn't even need Angela's help to come up with it. 
The tension really rose when Roper took Pine to the "hospitality" suite and let him in on the secret. It was unbelievable that Pine denied knowing anything, but then Roper showed him a picture of a bruised up Jed and Pine couldn't control himself.
Roper would have killed him right then and there, but the deal still needed to go forward and they needed Pine's retina to complete it. Yet, despite all the horribleness going on, Pine still maintained his cool.
How awesome was it when Pine punched in the code for the bombs instead of completing the transaction? Roper looked like a complete idiot, and that temper tantrum of his really showed his true colors. 
Who do you think did this? Arab militia! Little brown rats like the rest of you.

Roper
I don't think Roper ever thought someone could outsmart him the way Pine did. I also don't think Roper ever thought he'd come face to face with the woman who was basically responsible for making his life so miserable.
Angela finally had her man and there was nothing and no one Roper could call to get him out of the situation. That final confrontation between Roper and Angela was fabulous. Angela was in her glory when the walls started coming down on Roper. 
I wonder if it ever crossed her mind that he might actually get away with it all anyway. Sure, Dromgoole wasn't going to help him, but he was a powerful guy who knows powerful people. There had to be other higher ups who'd be able to get him out of his mess.
Which is why it was such a sweet ending to see Berghati's men intercept Roper from police custody. Angela's smile at that turn of events said it all.
I really hope Jed and Pine can live happily ever after. They've been through a lot together, and both of them deserve happiness. They are certainly lucky to be alive.
The Night Manager was six awesome hours of television. There won't be a second season of the series, and that's okay because I think the story that needed to be told was told. I know I don't want to see Jonathan Pine make stupid decisions for a woman anymore. I don't think my heart could take it.
Besides, wouldn't you rather see Tom Hiddleston as the new Bond? 
What did you think? Did the final chapter of The Night Manager meet your expectations? How do you rate the series overall? Are you sad there won't be a second season? Share your thoughts in the comments below!
If you missed any of the action, you can watch The Night Manager online, right here via TV Fanatic!