Major Crimes Season 5 Episode 1 Review: Present Tense

Jack Ori at . Updated at .
Major Crimes is back, and we're finally rid of the multi-episode story format that it tried last winter.
Major Crimes Season 5 Episode 1 was a solid, hour-long case with one or two personal subplots thrown in. Everything was as it should be, yet something was missing.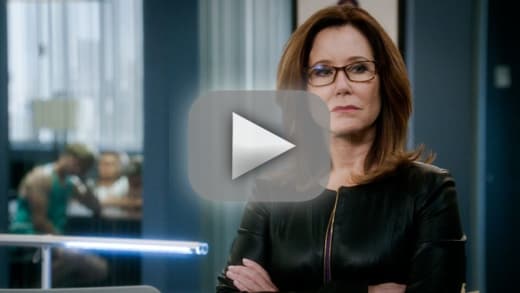 The case of the hour involved a bunch of homeless people, a young girl with a big heart and a disappearance that turned out to be a murder.
I was glad that none of the homeless guys turned out to be the bad guy.
The evil homeless person has become somewhat of a trope on television crime dramas, and it doesn't do real homeless people any favors when they are depicted as troublemakers and murderers on TV.
Mr. Pond: Great. Rather than looking for my daughter, let's sit here and chat.
Flynn: Other than the argument you had with Amanda about her boyfriend -
Mr. Pond: Who turned 18, by the way. Last April. So if he's been intimate with my daughter, that's statutory rape.
It was surprising that the father didn't turn out to be involved with the crime somehow. His attitude towards his daughter helping the homeless, combined with his opinion of her boyfriend, made it seem like he might have kidnapped Amanda himself to teach her a lesson.
Of course, he and his wife's casual dismissal of their foster son after almost four years led to Amanda's death, so in a way he was responsible.
I'm still not clear on exactly what happened. From Tucker's statement, it seemed he tried to drive Amanda home instead of to her boyfriend's house and she yelled at him and then somehow she got killed. Did he crush her windpipe in an attempt to shut her up then try to revive her?
It didn't make a lot of sense that Tucker was charged with kidnapping in addition to manslaughter. Driving a girl to her legal guardian's home instead of her 18-year-old boyfriend's doesn't sound like kidnapping. Again, some clarity on what actually happened would have been helpful here.
Sharon: Why did you pull your hand away?
Rusty: Why did I... because, Mom, I... I was extremely uncomfortable. What? You gonna say I'm wrong?
Sharon: No. But... which feeling is worse? Gus holding your hand or you sitting here alone in the dark?

Rusty's storyline annoyed me, not so much because he didn't want to hold Gus' hand but because it wasn't nuanced enough. Sharon was right, as far as it went, but the issue of why Rusty didn't want to hold his boyfriend's hand wasn't really addressed.
The idea that he's just "freaked out about being gay" isn't enough of an answer, either. 
In some places, it can be dangerous for two men to hold hands, and some guys might be worried about safety even if they aren't in a place that's particularly dangerous for non-heterosexuals.
It would have been a more powerful story had this been explored at all rather than it being depicted as an issue of Rusty being embarrassed, ashamed or perhaps cowardly.
Provenza: What the hell are you doing in my chair?
Rusty: I need your advice.
Provenza: My advice is - GET OUT OF MY CHAIR!
Buzz's storyline shows the most promise. I'm excited for a potential Buzz-centered story later on. It was also great to see him stand up to Provenza and Tao about their efforts to protect him from the truth.
What did you think of "Present Tense"? Were you surprised that Tucker turned out to be the killer? Are you excited for Buzz's story? 
Weigh in below, and don't forget that you can always watch Major Crimes online first if you missed anything or need to refresh your memory.
Jack Ori is a senior staff writer for TV Fanatic. His debut young adult novel, Reinventing Hannah, is available on Amazon. Follow him on Twitter.