Whoever thought prison overcrowding was a good idea should get a swift kick to the head.
Orange is the New Black Season 4 Episode 2 saw the beginning of new power dynamics between racial groups and explored the issues of introducing more people into the prison population.
Litchfield has become overstuffed, and it's only a matter of time before tensions reach a boiling point.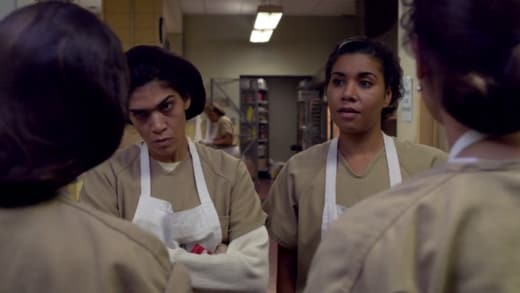 Caputo has always been an interesting character because deep down he wants to do right by the women in the prison. However, he tends to let pretty women and authority figures distract him from his first priority, which is making sure the prisoners are safe.
Introducing new COs who are more disciplined may help keep people in line, but knowing this show, there are bound to be a few rotten eggs in that basket. Only time will tell to see if Caputo can keep the prison from running off the rails. 
I'm not too optimistic considering how quickly the different racial groups are getting in one another's faces. The Hispanic groups are now the majority, but even the different factions within the Hispanic population are getting on each other's nerves. 
Maria's back story was explored, and we learned what role Dominican pride played into her relationship with her father. While the back story itself proved uneventful, it did set up Maria's role in the present. 
This is not how we play this. You're pissed right now. You ain't thinking. That's how you make mistakes. What you gonna do, start some kinda brawl? Get your asses thrown into Seg? Then who wins?

Maria
Maria hasn't been a character we've focused on much aside from her devastating story about her child being taken from her. However, I believe she will be a force to be reckoned with. She learned from her father how to assert power and to play the long game with your enemy. 
Perhaps Piper could use a lesson in being tough from Maria, because that woman is a lamb playing dress up as a lion. It's been well established with fans of this series that Piper is one of the most annoying characters.
Still, for her own safety, she better shut up soon and stop acting like she's running the show. I fear there will be a rude awakening in her future, even with the new bodyguard.
Tensions also flared between new bunkmates. Judy continued to get special treatment, which did not fly with Yoga Jones. Well, not until the herbal tea got in the mix. Judy is a great character so far. She's high maintenance, but she's smart. I wouldn't be surprised if she was able to own her own amongst some of the differing groups. 
Cindy and her roommate clashed over religion and it's entirely entertaining. Cindy has become one of my favorite characters, and her exploration of Judaism has been nothing short of brilliant. 
Alison: First of all, your name ain't Tova.
Cindy: I'm sorry?
Alison: Black people been naming their kids some crazy shit, but Tova ain't on the list. Unless the "V" is like a five or somethin'.
Cindy: It's Hebrew.
Alison: Please, you ain't no Jew.
Cindy: You want to say that again, bitch? Like you was born in Karachi.
A lot of seeds are being dropped in the early episodes, but you can already tell how much race and prison overcrowding is going to play a role this season. Some of the overcrowding issues are being looked at in a funny way like the line outside to the portable bathrooms, but like Soso said, this could turn dangerous real soon.
The show has been great at providing hilarious commentary about racism without forgetting that these issues really exist. However, I have a feeling these jokes about racism are going to turn into some harsh truths sooner rather than later. 
Angie: There's so many Mexicans now. It's like a Home Depot parkin' lot in here.
Leanne: Dominicans. If you're gonna be racist, you gotta be accurate, or you just look dumb.
My only concern so far is the sheer amount of new faces. I can barely remember everyone's names as it is, and I'm including people who've been around since the beginning. It would be a shame to let the people we've grown to care about stand on the sidelines in order to focus on a bunch of new characters. 
Leftover Thoughts and Questions
Now that Cesar is going to prison, will Daya ever be reunited with her baby?
Red's new snoring bunkmate providing a lighter plot to the episode that I appreciated.
Soso and Poussey are pretty darn cute together.
I'm glad Pennsatucky is watching out for Maritza, even if she doesn't realize it. 
Will Sophia's wife be able to get her out of the SHU?
TV Fanatic Elizabeth Harlow will be back with a review for Orange is the New Black Season 4 Episode 3 on Tuesday, June 21st. 
Hit the comments section below, and share your thoughts on the episode! 
Amanda Steinmetz was a staff writer for TV Fanatic. She went into retirement in June of 2027. Follow her on Twitter.