Everyone has a trigger that propels them to change things and move forward but up until Royal Pains Season 8 Episode 5, Hank Lawson hadn't found his. 
Oddly enough, the person who propelled Hank forward was Ken Keller. Who would have guessed that?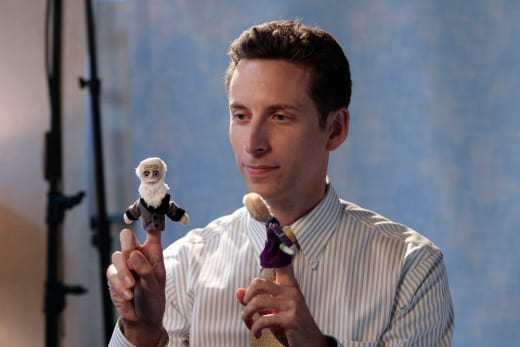 Keller literally ran back into Hank's life…and his living room, in the middle of heart failure. Keller has always looked at the world as a fight for survival, with him coming out on top; that's why his health issues were quite the shock…
So I'm the wounded antelope instead of the lion?


Keller
But it was Keller's need to always be on top that lead to his downfall, having injected himself with steroids to look good enough to stand next to a 20-something competitor at a photo shoot. If that wasn't silly enough, he hid the information from Hank because he didn't want to hear the I told you so. 
The man almost died because his giant ego wouldn't let him admit he'd done something so stupid to avoid looking old and it appeared to be Hank's tenacity as much as his medical knowledge that brought him back.
Ken Keller's not going to die. Not on my floor and not in my sweats.


Hank
Ken Keller's entire story was a way to set up Hank to take a new look at his life. As Keller pointed out to him in this Royal Pains quote…
You haven't settled in at all since you started HankMed. You've got no possessions, no mortgage, no girlfriend, no boss. You've got nothing.

Keller
Evan's gotten married, started new business ventures, moved into a house and is trying to start a family. Divya's started a family and is moving on to medical school (we hope!). But Hank has remained oddly stuck in place.
He's even still driving the Saab 900 that his mentor sold to him years ago. 
It's about time Hank moved forward in his life, and it's taken him 8 seasons to realize it. But what is it that's been holding Hank back? I'm hoping we dive into more of that before the series ends. 
Elsewhere, Evan and Paige moved forward with the IVF and just when I thought Evan finally had it all together, he did something incredibly stupid like telling his wife that her chemically induced hormonal symptoms were all in her head. 
He's lucky Paige is so nice because some women I know might have punched him and told him his bloody nose was all in his head. 
Despite his occasional shortcomings, Evan is a really great guy who adores his wife. He even manned up to give her the trigger shot…he just couldn't stop himself from passing out afterwards. 
Once they got Ken Keller up off the floor, Divya's surprise baby shower continued. I loved that Jeremiah was the president of his a/v club in school, and that video he made almost had me in tears. Divya's son is incredibly loved, and he's not even here yet. 
On a side note, I never thought of myself as super geeky but it was Jeremiah's portion of the video that made me laugh out loud…
Radiation isn't a play thing but a half life is better than no life at all.


Jeremiah
As wonderful as it all was, I was shocked that Divya decided to dig her heels in about Johns Hopkins. I know it's a great medical school but is going there worth postponing her dream for yet another year?
I was hoping that watching that video would make her realize what an amazing and loving group of friends she has in the Hamptons and how much her family will need their support as she takes on the challenge of med school. 
Obviously, Divya and I see this situation differently. 
Only three more episodes left! Check back next week for my review of Royal Pains Season 8 Episode 6 and if you can't wait for more, you can watch Royal Pains online here at TV Fanatic
C. Orlando is a TV Fanatic Staff Writer. Follow her on Twitter.