UnREAL Season 2 Episode 3 Review: Guerilla
Paul Dailly at . Updated at .
We need to talk about Brandi!
On UnREAL Season 2 Episode 3, Quinn returned to producing and was pretty darn good at it. She was exactly like Rachel, and it further proved that Quinn really is the reason Rachel's so good at her job. 
I can't be the only one who was shocked about what went down with Brandi. Chantal has been nothing but nice to everyone on the show. Sure, she's got a past, but don't they all?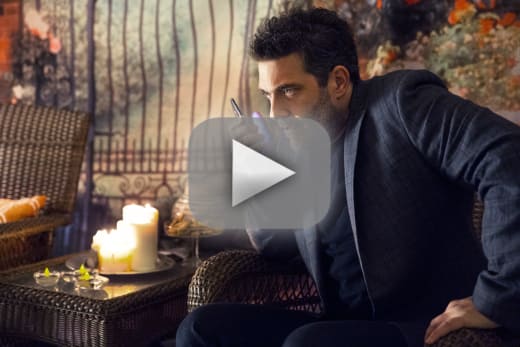 The scene with Brandi pulling Chantal's leg was just horrifying. Why would anyone even think of doing that?
She could have freaking killed her. The chick is obviously battling some demons right now, but she should not be on the show like that. 
If she stayed, it could have been a rehash of what happened with Mary on UnREAL Season 1. 
Quinn needs to do something about Rachel pretty quickly. Having two master manipulators out for one another will create a lot of drama, but they need to watch they don't destroy one another in the process. 
Gary has to be the worst character ever. He's so one dimensional, and the fact he keeps buttering up Coleman like a god is just not cutting it. 
Coleman has been in the door two minutes and gets a car? What was that even about? Quinn has been there since the start and has had to fight tooth and nail with Chet for power, so forgive me if this whole development was just silly. 
Coleman is an interesting guy, but he's working on the show based on his credentials alone. He has no experience in that genre, so he's there just for the star power. 
Quinn should not stand for it. She should be packing her bags and threatening to write a tell-all and take the powers that be behind the show down once and for all. 
She's fighting a constant battle when it's clear she can get results. Quinn was way more convincing than Rachel at manipulating, and that's what made it even more interesting to watch. 
Quinn came across as this genuine, vulnerable woman and it was great. Constance Zimmer continues to turn in the performance of her career, and I can't wait to see where we go next with her. 
Rachel's days may finally be numbered on Everlasting. Quinn isn't going to take too kindly to Rachel going behind her back, and rightfully so. 
The two of them are meant to be good friends, but Rachel now appears to be an opportunistic ass. There's no way Quinn will let her get away with this. 
I can't believe Rachel was actually going to run off and leave it all behind. Hopefully the fear she felt when Quinn found out will teach her a lesson to never bite the hand that feeds you. 
That said, it seems like she's following the power now, and that's why she's hanging around Coleman. It was obvious when Coleman appeared on UnREAL Season 2 Episode 2 that there was a lot of chemistry between him and Rachel. 
They're probably going to grow a whole lot closer as the season progresses, but look for Rachel to mess it up. She just can't keep herself out of trouble. It's crazy. 
Elsewhere, Madison is proving to be a good producer. I don't think anyone would have expected this to happen, but she's really working hard, and it's great to see it play out. I was shocked how good she was at manipulating Beth Ann. 
The scene with Ruby throwing shade at Beth Ann was great, but why do I get the feeling that these two are going to become good friends?
Also, Darius seems to be hiding some things from Rachel. It sure as hell seemed like he had some sort of illness in the closing moments. What could it be?
"Guerilla" was a decent installment of this Lifetime drama. Everlasting is starting to get old, so it would be great if the show followed a new format next season. 
Remember you can watch UnREAL online right here on TV Fanatic. Get caught up on all the drama now!
What did you think of the episode? Did it live up to the hype? Hit the comments!
Note: UnREAL Season 2 Episode 4 airs Monday June 27 at 10/9C on Lifetime. 
Paul Dailly is the Associate Editor for TV Fanatic. Follow him on Twitter.