Mistresses Season 4 Episode 5 Review: Lean In

Jay Ruymann at .
I never believed there would be a day when Karen Kim was my favorite character on this show, but that day has come on Mistresses Season 4 Episode 5.
Struggling to promote her mildly successful book, Barbara landed Karen a gig on a popular podcast, where she was left humiliated and angry.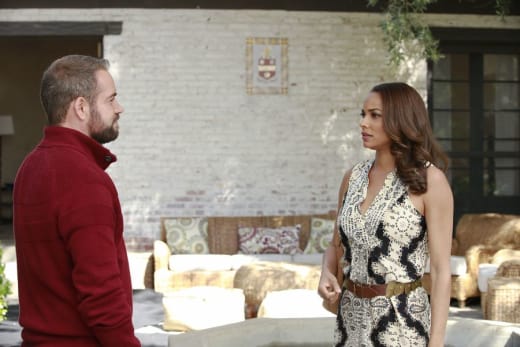 But when offered another chance to appear, she slayed him, and educated him on what her story actually signified for women.
You're a sex therapist, Karen. Get on board of that party train!

Barbara
Karen actually showed how much she's grown over the past four seasons.
I never would've expected her to purposefully go onto someone's show with the intention of making them look like a fool, yet here we are. And I'm glad she did.
Her story so far this season has been a little dull, and she lost herself into the manny, but now she's single, which hasn't really happened on Mistresses.
Karen's journey has always been to find herself, and accept herself, but she's always relied on other people (outside of her friends) to do so, and now, there's a chance for her to actually experience the single life with her daughter and a blossoming career.
She doesn't need another man to come into her life, but that's exactly what she's getting. Who is it? They left it as the cliffhanger, but it's all but confirmed that it is Alec, her baby daddy.
Can Karen and Alec be expected to reignite their torch without the third member of their heavy love affair?
I would hope to see Alec take an interest in her daughter, their daughter, and face his life as a father for his former wife. She would've wanted them to be happy in her absence, and the baby was conceived in all of their love for each other.
Karen stood up for herself to Barbara and the podcast host, will she be able to do the same to Alec, if necessary?
In order for your soul to be compromised, you need to have one.

Karen
Her defense of her book and theories was one of my favorite Karen scenes of the entire show, and here's hoping that this new side to Karen sticks around and the self-pitying woman the episode ended with disappears.
And.... April is problematic.
I swear I felt a connection between us! I wouldn't have kissed you otherwise.

Michael
Michael revealed himself to be transgender, which Kate and April, and then April and Marc, had a conversation not even worth going into detail over because it was gross and transphobic.
April literally stated she would never date someone trans, which is problematic on its own. Understandably, she was a bit confused and a little shocked when Michael first revealed it, but her reaction was messy.
It'll be interesting to see where they go with this. Obviously April isn't the only one who has this problematic mindset, either. Kate and Marc both expressed it, and who knows how Joss and Karen will.
April used to be a character worth watching every week, and now she's just plain, and unoriginal.
I'm obviously not a fan of her relationship with Marc if you've been reading my reviews, and this episode didn't change my mind in the slightest.
Kate. Oh, Kate.
I'm with Joss. Honesty is always the best policy.

Kate
Didn't you come to LA with a lie in tow, and a cheating ex-boyfriend back in Australia?
That you went off on April's employee for sleeping with a married man, continuously, was no surprise.
But then you took a call from the married "Taco Guy." Which is it?
Kate wants so badly to fit in with Joss, Karen, and April, but also with this new world she's stumbled into.
But there's nothing compelling about Kate's character. At all. We've seen this all before. The search for love in bland and overdone.
Throw her into a scandalous relationship and play with those emotions. That would be much better than the goody two-shoes act.
Nothing disappoints me more than how boring Joss has become.
Domestic life has tamed her too much, and she's nothing like the character we came to love over the past three seasons.
Where is her wild side? Harry makes her unbearably boring. It's time for a character revamp, y'all.
The fighting between Joss and Harry has already gotten old, and the fact that she'll be working as the publicist for his new kitchen is not going to do their relationship any favors.
Where's the mystery, scandal, and spice that this show used to have? Nothing about this season feels the same as the past three.
Almost as if they just decided to wipe the slate clean in that one year and start with new characters under the same names.
Joss used to be my personal favorite, and now I don't want to watch her on-screen unless she's in her fight club class.
With the ladies (Kate and Joss, at least) going to Vegas, what awaits them there? Kate seems to be having a very steamy time with a random man, while Joss' anger issues are bound to get her into trouble when she witnesses domestic violence of some sort.
You can watch Mistresses online right here at TV Fanatic to relive the good times, when this show was appealing every week for the entire hour, and not just five minutes of the hour!
Jay Ruymann was a staff writer for TV Fanatic. He retired in January 2018.