Queen of the South Season 1 Episode 4 Review: Lirio De Los Valles

Christine Orlando at . Updated at .
There were two main themes coursing through Queen of the South Season 1 Episode 4…
Strength can be found in the darkness, and a war is coming.
I'm not sure I'd say that Teresa is "blooming" like the Lily of the Valley in the dark, but she continues to put one foot in front of the other even as she's surrounded by whores, drug dealers, and killers who wouldn't care if she bled out in front of them.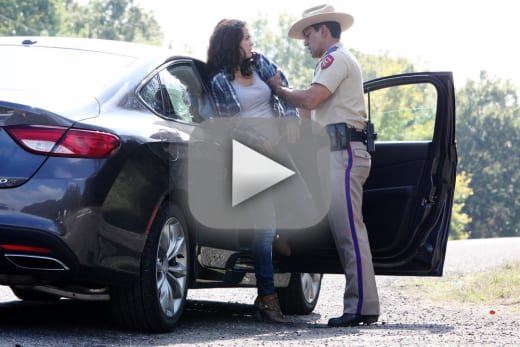 The moment that man at the drug deal opened the door and invited Teresa in, I knew something was about to go horribly wrong. He was far too friendly, like he was working hard to cover something, and he was. 
I wasn't really sure why he hadn't just killed Sandra but perhaps he needed her for something. Obviously, Sandra was impressed with Teresa's clear thinking under pressure as she saved her life. 
You've got more guts than you can hang on a fence.

Sandra
Is that a Texas saying because it's a new one to me, but I can't say it's not accurate. Despite the dire circumstances, Teresa never flinched. 
Maybe that's what Camila sees in Teresa, besides knowing that Epafanio needs her for something, she sees the determination to survive. 
Not much fazes either of these women and I'm sure Camila didn't gain this much power without going through her own path to hell. I wonder if we'll learn more about her story. 
Camila has proven smart and powerful. It didn't surprise me at all that she had a few Texas State Troopers on her payroll that were able to intercept Cesar as he abducted Teresa. 
What did surprise me was that she let him go. Although what she told Cesar had to have some effect. He must be wondering if Epifanio is simply using him because Camila's story made a lot of sense. 
However, I wonder how Epifanio's distribution manager will explain the new Bentley he's driving. That's a car that will definitely turn heads and have people asking questions. 
Is Camila sending these extremely generous gifts to gather allies or to cause ripples of discontent and suspicion through Epifanio's organization? I'm really not sure. 
Brenda was showing her own backbone, only in a different way, as she and her son conned men out of their cash for looking at her breasts. Brenda's hungry and desperate, so I'm not judging. What is it they say? A fool and their money are soon parted. Brenda is just taking advantage of the adage. 
Teresa was hiding Brenda and Tony from Camila and James and I don't blame her. There's truly no one she can trust and her friends could be used against her. It's better to keep them in hiding if she can. 
I'm not certain that Camila has a definite plan for Teresa since she doesn't know why Epifanio wants her, but Camila knows she's important and she'll bide her time in using her to her full advantage as she told James in this Queen of the South quote…
Not all cards are meant to be played at once. She has a purpose. Her time will come.


Camila
So will Cesar really tell Epifanio all he knows about Camila and Teresa? Somehow, I doubt it, but I look forward to hearing the tale he spins. 
Check back next Thursday for my review of Queen of the South Season 1 Episode 5, and if you need more, you can watch Queen of the South online here at TV Fanatic. 
C. Orlando is a TV Fanatic Staff Writer. Follow her on Twitter.