Royal Pains Season 8 Episode 8 Review: Uninterrupted

Christine Orlando at . Updated at .
There were big changes on Royal Pains Season 8 Episode 8, but the important things didn't change at all because HankMed is a family and even when family moves away, it doesn't really leave.
This series finale was a perfect blend of looking back at where it all began and forward to the future of the characters we've grown to love.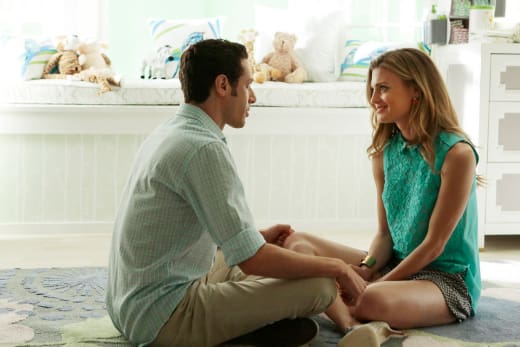 Divya finally got into Johns Hopkins and the news was bittersweet as she left the Hamptons. To make things easier, she and Evan still bickered like siblings; this time over who officially convinced Hank to create HankMed. 
The toasts at Divya's going away party made me teary eyed. Evan had to admit that Divya made him a better man while Paige thanked her for doing such a good job in raising her husband. 
But it was Jeremiah's toast that really had me feeling like I needed a HankMed hug when he remembered how socially awkward he was when he first arrived and that he'd never forget how Divya helped him grow. 
I was hoping that we'd get more about Jeremiah's future, but I'll have to be happy with this, and I'm going to choose to believe that he and Cindy end up living happily ever after.  
I wondered if Hank was going to follow Boris but was happy when he decided to follow his own path instead. Still, it was gratifying to hear Boris admit that he considered Hank family, especially after all they've gone through together. 
Boris gifting the use of Shadow Pond to Evan was an unexpected twist, and I enjoyed watching Evan's exuberance after reading that letter. The guy who once had to sneak onto the property was now its master, at least in Boris' absence.
When Lena's aunt didn't show up to become the kids' official guardian, I knew exactly where that story was going. I don't think anyone has bigger hearts than Evan and Paige, so it wasn't a huge surprise that they'd take in the kids. For two people who were afraid they'd never have a family of their own, it appeared they had nothing to worry about. 
It was Hank's story that had me guessing until the end…
This whole summer I thought I was finally getting ready to put down my roots and settle down, but the truth is I don't feel like I'm settling down. I'm afraid I just may be settling.


Hank
So Hank decided to completely change it up and follow up on his biggest piece of unfinished business. Jill. 
When Jill had visited earlier in Royal Pains season 8, Hank spent the entire time mistakenly believing that she was romantically involved with someone else. Now, knowing that she wasn't, he decided to fly off and find out if they still had a chance as he told her in this Royal Pains quote…
I'm ready to not let anything interrupt us, Jill, and I guess I came here to find out if...if you are too.


Hank
The flash forward three years into the future was perfect. Hank and Jill were a couple, and working for HankMed while summering in the Hamptons.
Evan, Paige, their twin boys, along with Lena and her brothers were all at Shadow Pond holding their annual Memorial Day party. Jeremiah and Divya were also back at HankMed, and Eddie and Ms Newburgh were on their way to the party, an hour late, as usual. 
Although the family had moved away, it also came back together. What a perfect ending for a wonderful series. 
Dark and violent shows used to be unique on TV, but not today. The current slate of shows is filled with darkness, crime and brutality. Lately, I find myself searching out shows that will make me smile. 
Royal Pains was that show. I will always remember these happy summers in the Hamptons fondly and will surely miss it now that it's over. 
If you want the summer fun to continue, you can always watch Royal Pains online from the beginning here at TV Fanatic. 
C. Orlando is a TV Fanatic Staff Writer. Follow her on Twitter.