New characters, new democracy, same old Abuddin.
Jamal's recovery might have been the final shocker of Tyrant Season 3 Episode 1, but it was far from the only one.
Prisoner exchanges, faked suicides, and resignation announcements all shook up the political minefield that is Abbudin. Who will end up in power is anybody's guess.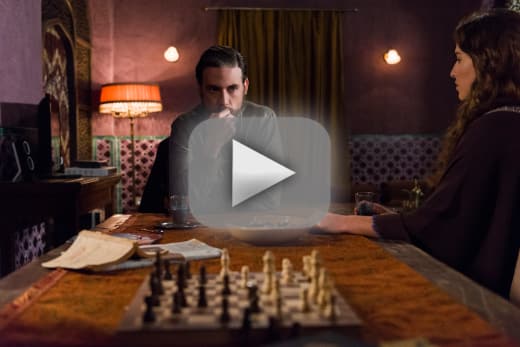 The season premiere introduced us to a few new characters, which only makes sense when you think about how many died in Tyrant Season 2. In the fight for Abuddin, everybody is power hungry, so Barry better watch his back. Aziz (the previously unseen butler) has already declared an alliance with Leila in the most disturbing way.
If he's willing to have Nusrat, another member of the royal first family, killed to help his "madame," who knows what else he's willing to do?
What was especially tragic to me about Nusrat's death is that she thought her family had betrayed her. She never knew just how big of an impact she had on those around her. 
She had been victimized time and time again and still stayed strong. Even if you consider her assassination attempt on Jamal morally questionable, she still found the resolve to take action when no one else could. 
Rami: You shot a president.
Nusrat: I couldn't let him win. You understand that, right? Someone had to stop him. None of you could do it, so I had to do it for you.
Even if Aziz is willing to get his hand's dirty so that Leila doesn't have to, the fact that she knows about his actions puts her in an awkward position. It also gives him a hell of a lot of leverage over her. There's a lot of ways this character could be played out, and I can't wait to see how it goes. 
The sheik and the governor of Ma'an are certain to get more play, as the figureheads of clericalism and secularism respectively. Even though they're working together in the government now, I wouldn't expect them to be singing Kumbaya anytime soon.
Even with the Barry's edict about forgiveness, politics is a dirty sport. 
And the fact that both of them will have military organizations backing their sides doesn't inspire confidence in a bloodless election season.
Rashid is back with ISIL the Caliphate, which we can assume will be supporting the sheik, and the US is sending in Mr. Big a general of their very own.
Are you truly committed to democracy in Abuddin, whatever outcome it produces? Or will America be seen by the whole world as only having supported me?

Barry [to Lea Exley]
In addition to the US military not having the best track record on intervention during other countries' attempts to establish democracies, I'm worried about Chris Noth's presence. Tyrant doesn't have the best track record of using actors recognizable to American audiences. 
Justin Kirk mysteriously disappeared after his Tyrant Season 1 role. The under usage and mismanagement of Jake Weber last season was nigh on criminal. Noth is yet another extremely talented actor, and I can only hope that he is given the chance to shine. 
I'm also a little concerned about the role that Emma will play this season. While Anne Winters worked on the defunct Wicked City, Emma was left on her own in Pasadena, leaving Sammy to carry the weight of telling the story of the kids.
While his arc redeemed him from an American brat and gave him connections to Abuddin, Emma missed that opportunity.
She was (naively) political aware in the first season, so hopefully she'll get a chance to leave the kitchen table this year. I know Sammy and Ru'A hit it off in the trenches of Ma'an, but it honestly seems like the Al Fayeed daughter would have more in common with the student activist. 
Ru'a: I'm just not sure about this turn the other cheek thing. Don't say anything to your dad. I mean, I'm still angry. I don't know. Can you pretend to forgive?
Sammy: You don't pretend. You force yourself until it becomes the truth.
Or get her involved with Abuddin's nascent feminist movement. With Leila having her own awakening and taking the role of Foreign Secretary, gender politics seems like a timely interest for the teenager. She was outraged about Sammy's inheritance, after all. 
Leila's ascent has been a thing to watch. Moran Ateis continues to blow me away; she balances the emotions of a complicated woman expertly. Leila is at once both fragile and indomitable, scared and scheming. As always, her fashion is completely on fleek. Even under house arrest, sans makeup, she is perfection.
Her husband's survival has to come as a bit of an unwelcome surprise to her. We don't know what his condition will be, but I can't imagine a happy reunion between those two.
Even if she hadn't signed an affidavit confirming his crimes against humanity, I don't think he'd take her new found confidence all that well. 
I'm tired of apologizing for sometimes thinking I might be more than a wife and a mother.

Leila
Her cabinet position opens her up to some new storylines, and now she gets the one to be making mistakes, along with Barry. While they both realize that handing Rashid over to another government was a rookie move, I wonder if Leila has realized Barry's other mistake. 
When she challenged him about his six month timeline for elections, she thought she was pointing out that he would win with ease. But what Barry didn't consider was that six months probably isn't enough time for the country to acclimate to his amnesty program. 
I've been praying for this. But between you and me...it might have been easier...my brother...if you had died.

Barry [to Jamal]
We'll have to wait and see if his possible successors plan to be on board with his Truth and Justice Commission. Somehow, I think not. 
You won't want to miss Tyrant Season 3 Episode 2 when it airs July 13th. Remember, you can always watch Tyrant Online if you miss a broadcast!
We can't wait to hear what you thought about the premiere in the comments section, and in the meantime you can also read our interview with one of the executive producers, Howard Gordon, before the next episode.
Elizabeth Harlow was a staff writer for TV Fanatic. She left the organization in October 2018.