Ray Donovan Season 4 Episode 9 Review: Goodbye Beautiful
Paul Dailly at . Updated at . Comments
Would Ray Donovan really kill off Lena or Avi?
That thought was toyed with on Ray Donovan Season 4 Episode 9 and it made for a very unsettling hour of television. 
Let's chat about the Russians descending on Ray's stomping ground. It was inevitable, but watching it all go down was somewhat exciting.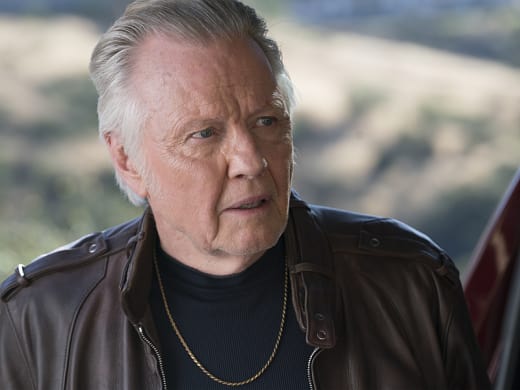 For too long, Ray has been getting away with every crazy decision he makes, so it was thrilling for the tables to turn on him. 
Sonia was a great character with many layers. Throughout Ray Donovan Season 4, she's been such a strong character that gets stuff done. She never let her illness hold her back. 
It was a complete 180 for her to actually be frightened of Dimitri. She's been so sure of everything thus far. Ray really didn't think through killing Belikov a few weeks back. 
The dude was blinded by rage. Murdering him was a short-term solution, but now everyone is in danger because his foolish action. 
That's not to say if Ray followed orders from Belikov that his family would be any better off, but it wouldn't have hurt to try it. Belikov was always a bit of a wildcard option, but it would have been great to see what ramifications letting him live would have for the core characters. 
It would have no doubt been better than what's about to happen. Sonia showing up on Ray's doorstep and attempting to make Abby feel sorry for her was a little too far. 
Abby immediately let her know she wasn't stupid and I have to commend her for it. Why shouldn't she? Sonia had some nerve showing up at Ray's home in the first place. It was a bit much. 
Abby has always been one to lay down the law. She's not someone who will just sit around and listen to crap. Sonia commenting on Abby's cancer was rude on so many levels. 
Abby knew Ray slept with Sonia, but she didn't need to know that Ray had also been telling her their business. 
I do agree that Ray was the one who put Sonia in danger, but what does she expect when she's playing with fire?
Unless she changes everything about her lifestyle, she's not going to be able to leave this life behind her. 
If Dimitri butchered her father, then he sure as hell wouldn't have any compunction with taking her out of the equation. She was the one who vouched for Ray to begin with. 
If Dimitri and Belikov had it their way, Ray would have been silenced long ago, so some of the blame does have to go to Sonia. 
After Avi told Ray he would have to kill Sonia, I genuinely thought he had tampered with the plane and it was going to explode when Dimitri was on the phone. 
Ray has been doing a lot of questionable things on the show recently, so I'd be hard pressed to say killing Sonia would be out of character for him. 
No wonder Ray is always stressed out. There's always something going down that could very easily put his family in danger. It's time for him to think about the future and retire, or he runs the risk of losing all of his family members. 
All of the action in Primm kept me on the edge of my seat. When Mickey puts his mind to something, he goes all out to achieve it and that's exactly what he was doing. 
He wanted his money and his girl, but he got a little greedy along the way. He never in a million years would have expected to lose the woman he was fighting for. 
Teresa showed up just a few seconds too late, but she still showed up to try save the day and it was pretty great. 
Jon Voight's performance on "Goodbye Beautiful" was award worthy. Going from an upbeat criminal, to a grieving man in a few scenes was a stark contrast, but he pulled it off effortlessly. 
All things considered, this was a fantastic effort from this Showtime drama. With the Russian mob well and truly after the Donovan family, it should pave the way for a deadly conclusion to the season. 
Other tidbits from the episode:
When Marisol packed the suitcase with the picture of Hector, it confirmed just how much she loved him. It was like she was finally running off and leaving him alone, but then she set the case on fire at the gym. Can someone find a way to get her sent away forever?
There was clearly a spark between Terry and Doherty, so it would be great for the two of them to go on a date. A bar date sounds like a good start. 
Bunchy talking about swimming was absolutely hilarious. The woman he was holding captive looked so annoyed.
Lena was so damn badass tonight. She wasn't taking any chances when she rolled that window down!
Remember you can watch Ray Donovan online right here on TV Fanatic. Get caught up on all the drama now!
What did you think of the episode?
Hit the comments below!
Paul Dailly is a staff writer for TV Fanatic. Follow him on Twitter.