Is there a mirror image of each one of us walking around out there somewhere? A doppelgänger who may not look like us, but shares so many similar experiences that we think alike?
According to Bull Season 1 Episode 1, those people exist, and can be used to construct a mirror jury to predict the outcome of a trial.
That's the part of Bull that's fascinating. The psychology of a trial and how a jury comes to its verdict.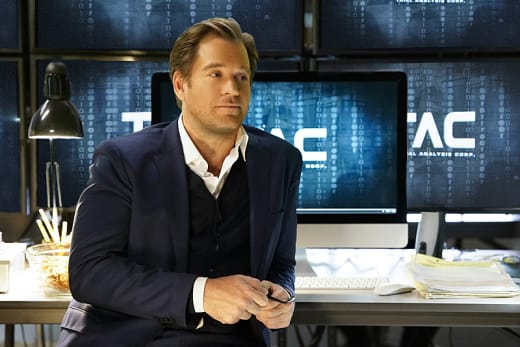 The show follows Dr. Jason Bull, the man who runs a highly successful trial consulting firm. Dr. Bull has three Ph.D.s and amazingly accurate insight into human behavior. 
What makes it even more interesting is that the show's premise is based on the early career of Dr. Phil McGraw, (yup, that Dr. Phil) who was the founder of one of the most prolific trial consulting firms of all time.
As much as I found the concept for Bull intriguing, the pilot didn't quite live up to my expectations, but in Bull's defense, those expectations were pretty high. 
Michael Weatherly, who plays Dr. Jason Bull, also played one of my favorite characters on NCIS. Considering that his run on that show was 13 seasons long and ended just last May, it was a little difficult to see him as anyone other than very Special Agent Tony DiNozzo. 
Bull: Rule #1: The client is the enemy.
The fact that Bull appears to have his own set of numbered rules, much like Gibbs on NCIS, was both amusing and distracting. We'll see if that continues throughout the run of the show. 
Bull plays like your standard crime procedural, even if the goal is to have the defendant declared not guilty and there's no real attempt to find or prosecute the actual killer. On the upside, it's TV comfort food with a bit of a twist. On the downside, that makes it a little bit boring.
Still, Bull should work well sandwiched in between NCIS and NCIS: New Orleans, especially with a face as familiar as Weatherly's is to viewers of those shows. 
The story in "The Necklace" was nothing earth shattering. Annoying rich kid, Brandon, is accused of murdering a pretty girl. Did he do it? Brandon swears he didn't.
Brandon: They aren't going to convict me because of my haircut.
Bull: No, but they ought to hang you for being a dick.
Brandon is privileged and arrogant. You'd actually enjoy seeing him go down for the crime if it weren't for his daddy issues.
The stunning twist, which really isn't all that shocking, is when it's revealed that Brandon is actually gay. Although this has become an almost standard TV trope, I did enjoy the way it was revealed here. When Brandon said that helping his friend tie herself up, naked, with Japanese bondage rope wasn't sexual, he had to be either lying through his teeth, or gay. 
Who Brandon really spent the night with as well as the real killer's reveal were nothing more than interesting plot points at the end of the show. Since we saw no consequences for either character, it robbed the moment of any real drama. 
Despite all of the above, I am looking forward to seeing more of Bull. There's a lot more to learn about Bull's team, as well as Dr. Jason Bull himself, and I expect that the characters will be what draws the audience back to this show as much as the premise. 
Or as the doctor himself said in this Bull quote…
Don't give up on people; they're all we've got.

Bull
Check back next week for my review of Bull Season 1 Episode 2 and if you want more, you can watch Bull online here at TV Fanatic. 
C. Orlando is a TV Fanatic Staff Writer. Follow her on Twitter.