Empire Season 3 Episode 2 Review: Sin That Amends
Michael Cavic at . Updated at .
Family will always have your back, and that was shown on "Sin that Amends." As this family bonds together more obstacles are thrown their way.
After an explosive premier, I had higher expectations for Empire Season 3 Episode 2 The episode did a nice job with setting up the bigger story for the season. Tariq is adamant on taking down Lucious, and he is going to go to great lengths to do so. Lucious and Anika now know that there was a camera planted in Bella's teddy bear.
I'm glad that wasn't dragged out longer than it needed to be. This is Lucious, so we expected that he would find the camera as quickly as he did.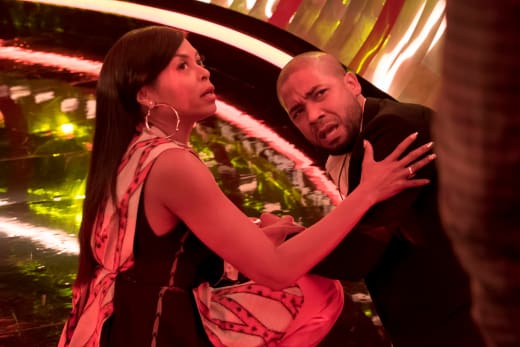 Taye Diggs makes his debut as the mysterious yet intriguing Angelo Dubois who hosts a summit to fight violence and gun control. 
Why was Cookie so skeptic about Angelo? Anyone's guess is as good as mine. Cookie was in true form as she not only argued with Lucious for the way he has treated her, but she threatened Angelo. 
Well damn, the only other person I ever saw her go off on like that was....you!

Jamal
Cookie has so much love for her family, yes, even Lucious! The tender moments she shared with Andre, Lucious and Jamal proved that. I cried on my couch at home, as when she was talking to Andre and telling him that he was going to push through. 
The Flashbacks between Lucious and Cookie were sweet, but at the same time were redundant. I liked that we saw different variations of the scene, but all-in-all we the scenes could have been more interesting. 
I don't trust polite people, stupid!

Cookie
Do you guys think that Becky will betray Lucious? She was offered to follow one of Lucious artists to a rival recording company. I don't think that Becky has the heart to leave Lucious. As she stated he offered her a job when no one else would. It's one thing to get on Lucious bad side, but to completely betray his trust is another. 
The Summit was the highlight of the episode as everyone came together for a great cause! The fight against violence and gun control hits home to Jamal. Angelo said it from the beginning of the episode! As much as Jamal doesn't want to believe it, he is suffering from PTSD.
I was completely furious when Lucious went against Jamal's wishes, by trying to get him to perform. Jamal has made it very clear that he doesn't want to do music right now. Lucious of all people should understand that!
He wouldn't know streets if it shot him in the ass.

Cookie
Andre is trying so hard to cope with the loss of Rhonda! He isn't taking his meds right. He needs his family around him. Cookie and Jamal seem to be the only people there for him. What I love that this show does so well is takes things from the headlines, and incorporates it so well. 
Poor Andre! He can't catch a break!
All he is trying to do is put together his life and what happens, he falls victim to police brutality. The way those officers man-handled him was disgusting. They treated him different! It was a wake up call, as it truly showed how ignorant our world is today, and it is because of people like those officers that we live in such hate.  
My destiny was music, and my destiny was you.

Lucious
Other thoughts:
Is anyone else confused with Shyne's purpose on the show. As of right now the character isn't doing anything for me, and I may have confused myself, but I though Nessa was his niece, but he called her his sister. 
Why is Anika treated like royalty when she doesn't deserve it?
There is more to Tariq then we are led to believe. Just how long has he been after Lucious?
Hakeem needs to man up, and take control from Lucious when it comes to Bella. 
The music is what drives this show, and I would have liked this episode a bit more if they incorporated that.
What did you guys think of this episode? Will Becky betray Lucious? Can Cookie learn to get along with Lucious and unite as a family? What did you think of Angelo? And what is the deal with Tariq? What does he want with Lucious? Remember you can watch Empire online here at TV Fanatic, in case you missed the episode.