Queen Sugar Season 1 Episode 3 Review: Thy Will Be Done

Christine Orlando at . Updated at .
It was all about the haves and the have nots on Queen Sugar Season 1 Episode 3, as the family was faced with making a decision about the future of the Bordelon family farm. 
Simply wrestling with whether to keep it or sell almost destroyed them.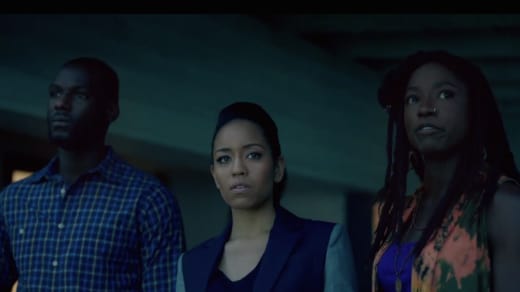 The reading of Ernest's last will and testament made it clear what he wanted for his family…
"Out of every place in this whole, big world, this land bears our name. Farm it. Nurture it. Love it. Pass it on to your children and for every Bordelon that will come next. Your forever loving father, Ernest."
I think Ralph Angel was right; he may have written that in 1989 but I have little doubt that he felt that way until the day he died. If the land had meant any less to him, he probably would have sold it off himself when times got hard. 
Nova and Charley had no interest in being farmers. To them, the farm was more of a burden than a blessing, but they each have their own lives and careers to get back to.
What does Ralph Angel have?
Ralph Angel is lost and struggling. He wants to make a future for himself. He wants to change things for himself and his son so badly that the desperation for a chance practically pours out of him but, up until this point, he can't even find a job. So where his sisters see the farm as a hardship, he sees it as a blessing.
When Ralph Angel realizes that they have no interest in the farm, coupled with how they frequently dismiss or ignore his input, it pushes him to the edge. Finding his sisters boxing up his daddy's things without even considering consulting him, pushes him over it. 
By the time the repo men show up, Ralph Angel was reacting out of pure grief and rage. All thought of the consequences that could come from picking up that gun were no longer reaching him, until Blue walked out that door. 
The moment was both heartbreaking and terrifying because of how it could have gone so horribly wrong. Any of them, including Blue could have ended up dead, and if Ralph Angel survived he certainly would have been spending a lift time in prison. 
Sometimes your whole future rides on one choice. Thankfully, Ralph Angel put the gun down. Just as thankfully, the repo men never called the police. They could have reported him, but then again, I'm guessing that repo men get guns drawn on them somewhat regularly. If they reported every incident they'd probably spend more time in court than making money. 
Charley: Have you ever been out here before?
Nova: To this museum of our enslaved ancestors? No. It's like going back in time, just replace black with brown.
This Queen Sugar quote is one of the reasons I'm growing to love Nova. She makes me look at things from a different perspective. 
The visit to Sam Landry revealed a couple of things; that Ralph Angel knows more about farming than his sisters expected and that Sam Landry was looking to strong arm the family into taking a low-ball offer. Where the first was a surprise, the second was not. 
Elsewhere, Davis stopped by to speak with Charley and I just love Aunt Vi. Nope, we're out of coffee and sweet tea. There's no pretense here. No one has to guess how Vi feels about Davis. 
So Davis claims he's innocent of rape because the women in question was a hooker. Well, doesn't that just make everything better. 
His pleas that this was "just one time" only made me want to hit him harder. Does he think anyone is going to believe that?
I did feel sorry for Micah. The last thing Charley wants to do is share all of the sordid details of her husband's sexual escapades with her 15 year old son. Micah loves both his parents. I suppose he'll learn the truth soon enough.
Other points of interest…
Did anyone else want to smack Roberta silly, hanging all over Hollywood right in front of Vi?
Thank goodness Vi has Hollywood. Things are changing and her grief only makes dealing with it that much harder.
I'm curious as to what the young man is prison is accused of and how Nova plans to help.
When Ralph Angel was at his lowest, he turned to Darla, even if it was just for sex. I want to know more about their past.
I don't think anyone ever looked happier than Ralph Angel when he got that warehouse job, but I don't know how he's going to work 40 hours and run the farm. 
Sam: Be careful ma'am. We do business a little differently down here than where you come from.
Charley: You'd be surprised at how much I know about business, sir.
As happy as I am to see the Bordelon family band together to make a go of the farm, I believe this fight has just begun. 
Check back in on Monday for our Queen Sugar round table and then next week for my review of Queen Sugar Season 1 Episode 4 here at TV Fanatic. 
C. Orlando is a TV Fanatic Staff Writer. Follow her on Twitter.