The Last Man on Earth Season 3 Episode 1 Review: General Breast Theme With Cobras

Tiffany Staton at . Updated at .
Welcome back!
The Last Man on Earth Season 3 Episode 1 picks up exactly where we left off. Pat Brown and two people in hazmat suits are headed toward our favorite survivors with guns.
Naturally, everyone freaks out and grabs a weapon. Melissa grabs a gun, Gail grabs a wine bottle and Tandy frantically shouts to shoot them in the throats and balls!
How hilarious was it that the group couldn't flee because Todd blocked all the cars in with the A Team van and couldn't find the Mr. T keys? Of course this classic vehicle would appear after Tandy drove the DeLorean last season.
I wasn't surprised at all when Melissa shot one of them on sight. She's becoming pretty handy with a gun and the group is concerned.
Carol Pilbasian: Have you learned your lesson about not using firearms?
Melissa Scharte: Yes, yes.
Carol Pilbasian: Firearms are not the answer. I stand by that.
Of course that didn't stop Melissa from pulling an automatic weapon from her bedazzled boots just seconds later.
When the hazmat hood was removed and revealed John Hamm I literally shouted out loud. Allow me to remind you, I totally called that in 9 Reasons You Should Be Watching The Last Man on Earth, which you can see below.
Pat was sketchy from the moment we met him but all of a sudden he goes by the name Ben, has secrets and is looking for a "fresh start," which was said repeatedly, in a very creepy way.
Tandy has good intentions in wanting them to stay – he's also been alone – but it definitely looks like he made a bad decision here. With Carol's support, the group eventually agrees to let Pat/Ben and Lewis stay.
It took me a while to figure out Tandy wasn't a dangerous lunatic but in fact, the man of my dreams.

Carol Pilbasian
The speed at which Pat/Ben cozies up to Tandy is also suspicious. He's quick to compliment him, always wants to hang out, and presents him with the first pair of jean art. It definitely feels like he has an ulterior motive.
Todd's concern for Melissa is sweet. Of course she should be (and isn't) processing the fact that she just killed a man.
Gail seems to be a little annoyed by it though. Are things not as sweet as they seem in this three-way relay? She may not have to worry as Pat/Ben clearly has the hots for her. Unfortunately he's super creepy and has less game than Tandy and Todd.
Pat Brown: Do you like hair?
Gail Klosterman: What?
Pat Brown: Hair. Do you like it? On guys?
Pat/Ben's reaction to Mike's picture was interesting. I know he was worried about contracting the virus when he abandoned him early in season 2 but he doesn't have any reason to hate Mike.
It must have something to do with his multiple mentions of "the bunker people." Who are these mysterious people? And why is he so afraid of them?
As the group sped away from their Malibu mansion in the A Team van – running Pat/Ben over in the process – I couldn't help by wonder where they would end up next. Of course the previews gave this away.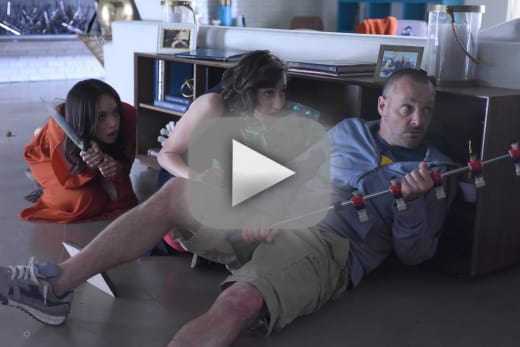 I guess we just have to wait until the next episode to see what Cher's mansion looks like. In the meantime, what do you guys think about Lewis?
Do you have any theories on who the bunker people are or why Pat/Ben is so afraid of them? After Will Ferrell and John Hamm, who do you think the next guest star will be?
Remember if you ever want to catch up, you can watch The Last Man on Earth online via TV Fanatic.
Tiffany Staton is a staff writer for TV Fanatic. Follow her on Twitter.